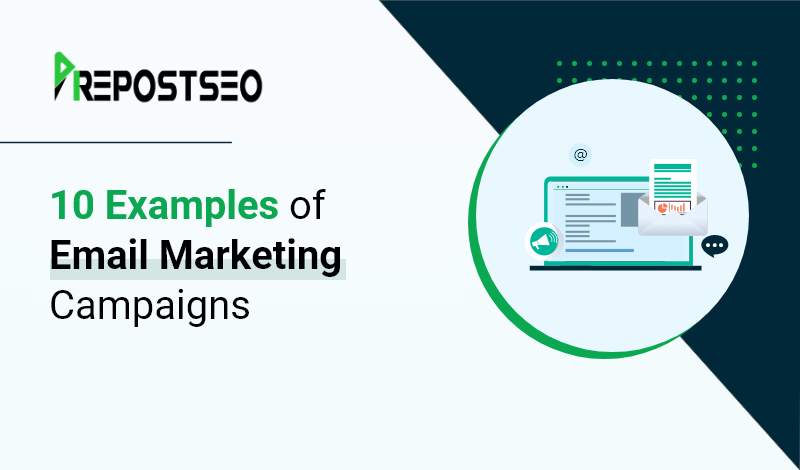 ---
There are approximately 4 billion email account holders globally. Therefore, email marketing is the most effective tool to generate traffic, create brand awareness, and boost your ROI.
As a marketer, you are probably working hard to find new ways of keeping your audience engaged. But do you also want to remain outstanding in the competitive eCommerce world?
Don't worry! This article uses email examples from various brands to inspire you to build your campaigns by sending striking emails to your subscribers. So let's dive right into it, shall we?
1. Airbnb Feedback Request Campaign Email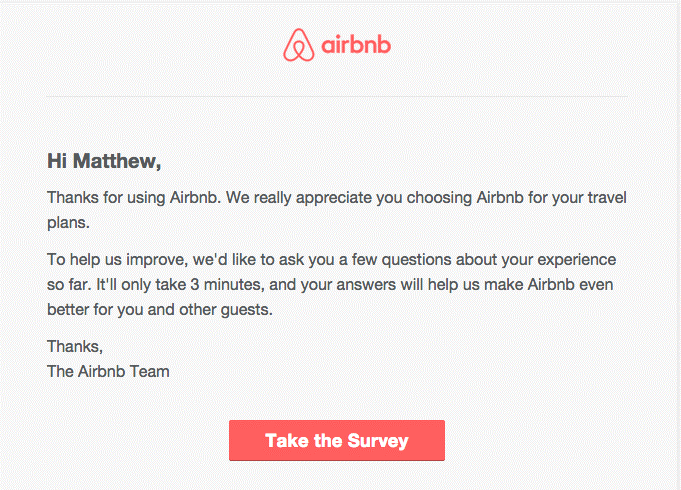 Source: Airbnb
This email is straightforward and has everything needed in a marketing campaign email! Its colors are fresh and contrast with the background for easy reading. And the specific minimalistic design is objective. Furthermore, the brand ensures that the CTA is clear and outstanding from the rest of the email body. This lets the reader know their next step after going through the email content.
The email uses personalization where it addresses the recipient by name. Also, the brand starts by thanking the reader for using its services. This is a great marketing strategy that makes the brand recognize the reader.
Another good aspect of this email is that its mission is clear (conducting a survey) and creates the impression that the customer is the immediate beneficiary. In addition, it encourages the audience to take the intended action by telling them it won't consume much of their time.
Wish to create similar-looking emails? We recommend the multipurpose email & SMS marketing tool Sender. It's an easy-to-use software designed for your successful brand growth. Its user-friendly drag and drop builder will help you create the eyepleasing emails fast and easy.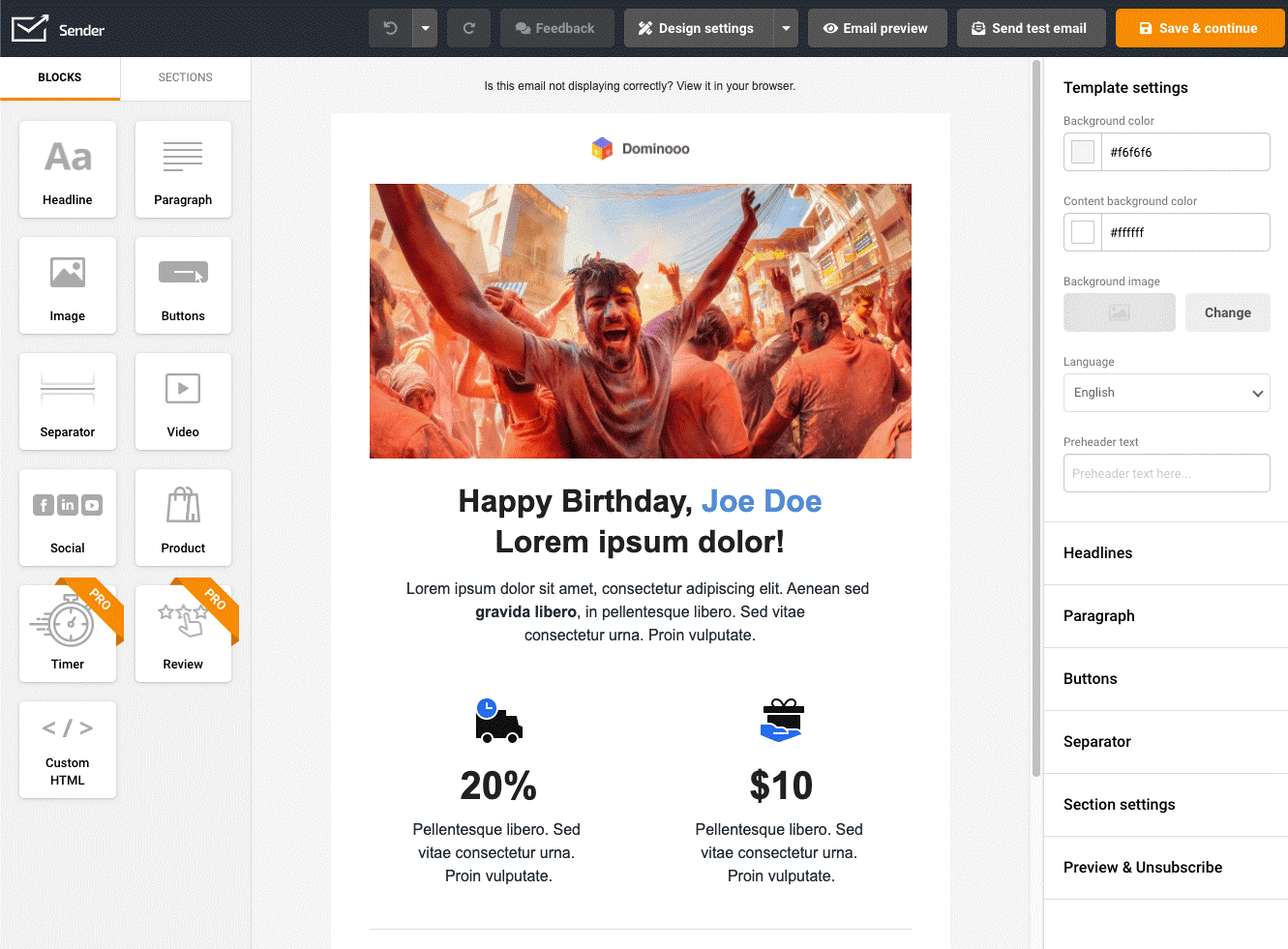 Source: Sender
2.Upsell Campaign Email by BarkBox

Source: BarkBox
Upselling is a great tactic to register additional sales and incremental revenue. This email campaign by BarkBox is an amazing example of upselling to its existing customers.
The email is triggered based on purchase history and sent to customers before their orders are ready to ship. The email prompts customers to buy 'additional items' and add them to their upcoming delivery. The subject line — 'Last Chance! Take care of holiday shopping early 🎁Add to your November box!' intrigues a user to buy more — a clever tactic to appeal to a pet parent's urge to pamper their paw-baby.
3. Redbubble Re-engagement Campaign Email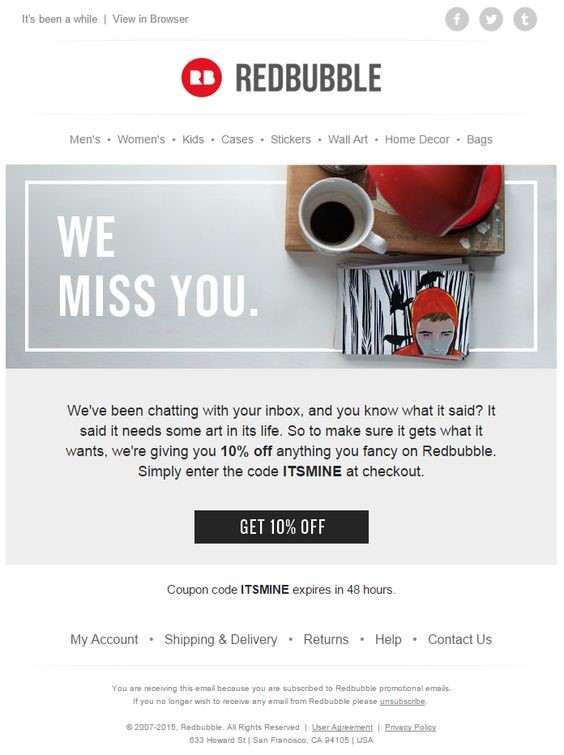 Source: Original Redbubble email
This email is clear and to the point! The use of eye-catching and mouth-watering product images is enough to attract the readers' attention. The recipient can quickly scan through the email and pick the relevant details with the limited texts.
Free products are irresistible! This brand uses incentives to win back its inactive customers. It asks customers to visit their store and enjoy their products for free. This gives the recipients fresh memories of the brand, and they are inspired to re-activate their accounts!
4. Gussi Welcome Email with Discount Code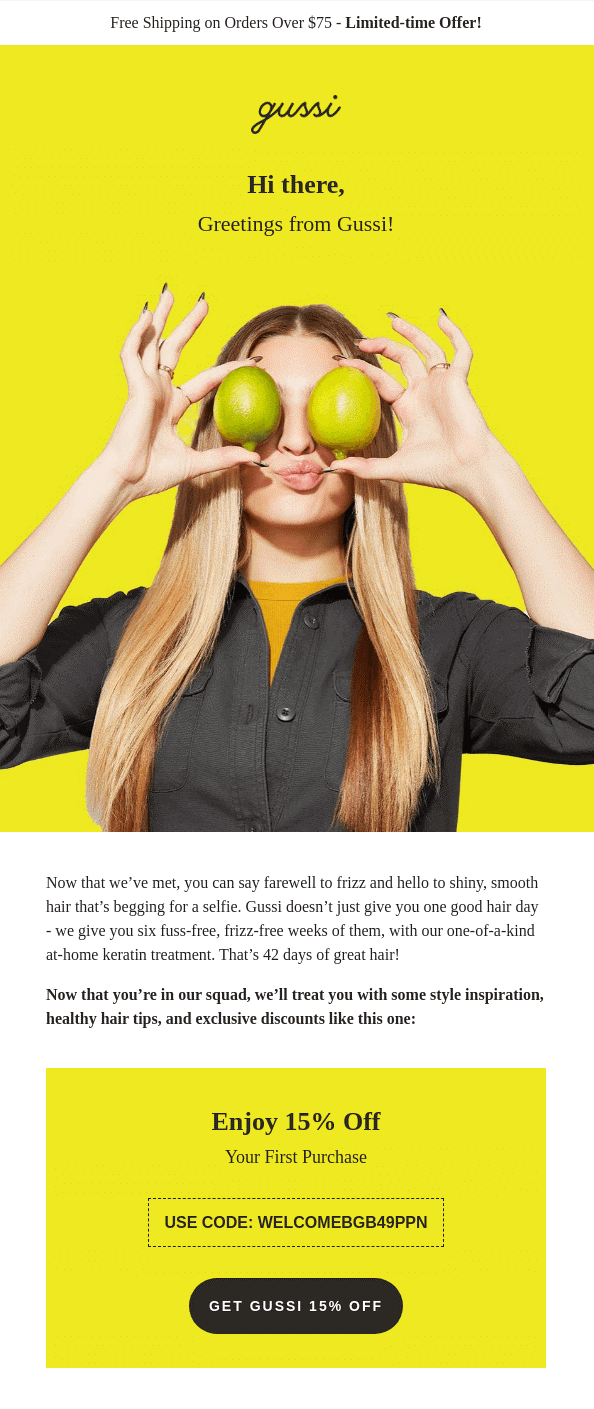 Source: Original Gussi email
The brand sends this email to its new subscribers after their successful signup. It includes a welcome note to the new members and briefs them on the type of content they should be expecting from the brand. When you send a welcome email to your new customers and introduce them to your brand, you make them feel that they have made the right decision to choose you over your competitors.
5. Starbucks Incentivizing Campaign Email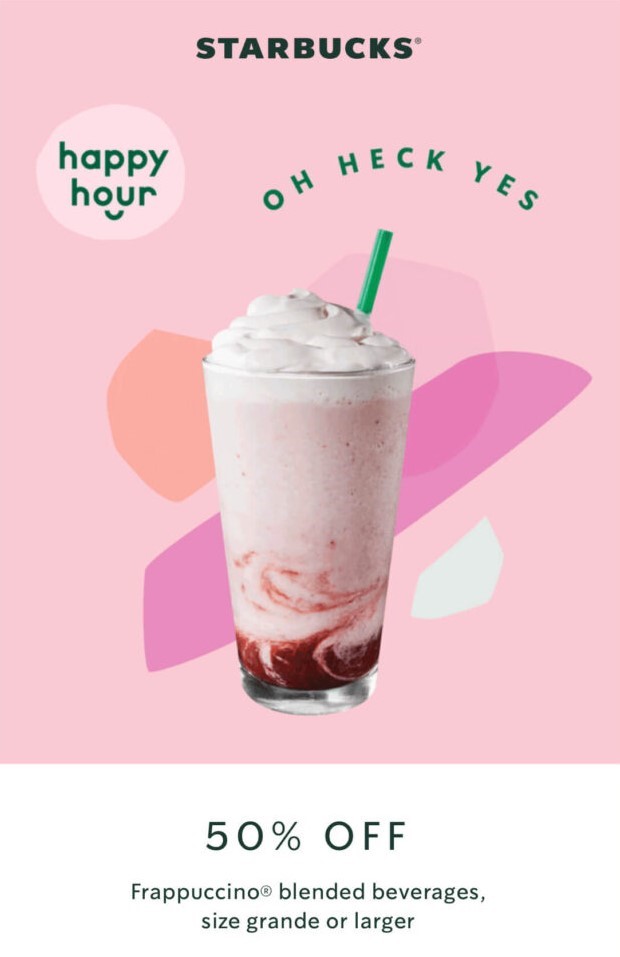 Source: Original Starbucks email
As a brand already famous for its attention-grabbing video marketing content, it's not surprising to see Starbucks placing the same creativity and attention to detail in its marketing emails.
The balanced use of images and texts is a brilliant idea that encourages the recipient to read through the email. The drool-triggering product photos and the bolding of the critical words attract the readers' attention. It also helps them to grasp the email's message quickly.
The brand includes a crazy discount that any customer can't overlook. Upon receiving such an email, your subscribers can't help but share the good news with colleagues, family, and friends! This brings in new customers and increases your sales by far!
6. Rapha Sales Promo Campaign Email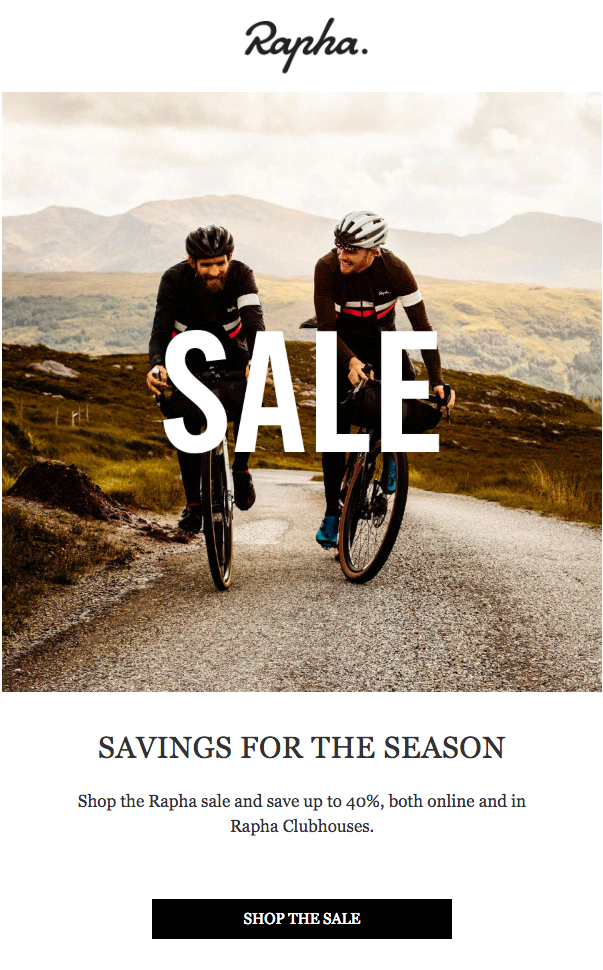 Source: Pinterest
The email goes straight to the reason as to why it was sent. The brand sends this email to remind the recipient that the sale is still ongoing and that the CEO will be addressing the participants on specific issues.
Sending a reminder email after the sale has kicked off is essential because most people are busy and may have forgotten about the announcement email you previously sent to them.
7. Google Express Abandoned Cart Campaign Email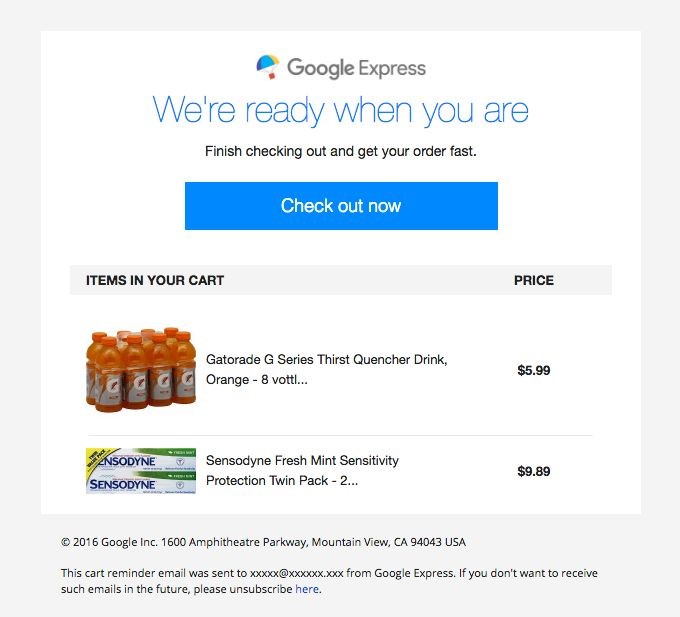 Source: Pinterest
Another critical mission for marketing campaign emails is to recover abandoned carts. Google Express regularly sends these emails as a reminder to customers who fail to complete their checkout process. The email includes the shopper's items, plus their prices. It also allows the recipient to unsubscribe if they aren't interested in receiving such emails in the future.
You can also use the same strategy to encourage your cart abandoners to return and complete their orders. In addition, you could consider adding an incentive and making it more personal to push your agenda.
8. Omaha Steaks Festive Campaign Email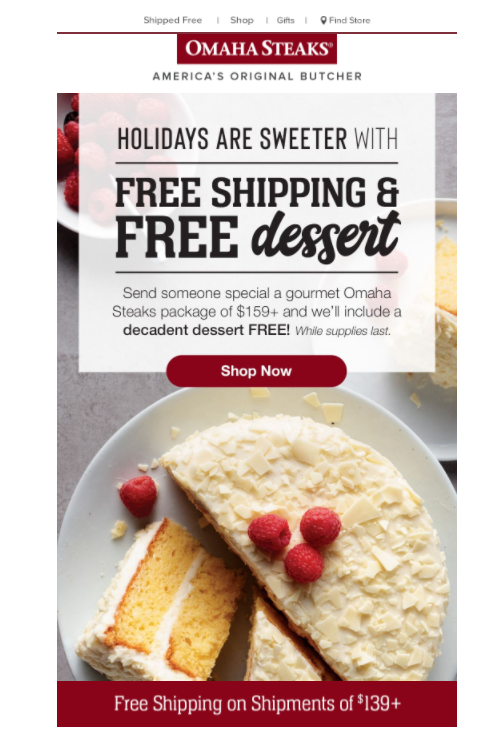 Source: Original Omaha Steaks email
The brand sends birthday wishes to its customers to celebrate this special day. According to their email, the customer should place an order, and Omaha Steaks offers free shipment services for the order plus the free birthday cake.
Borrowing from this example, you can also celebrate your customers' special days and thus build their brand loyalty. Where you offer B2B services, celebrate your client companies' anniversaries, the first day they visited your website, or the day they made their first order from your store.
9. Art.Com Flash Sale Campaign Email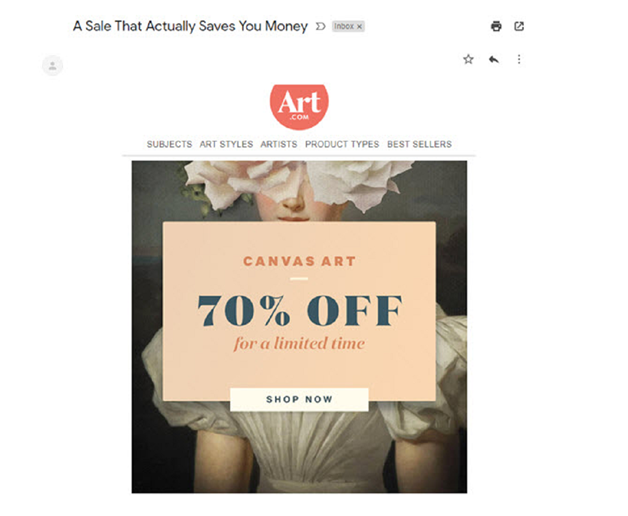 The subject line alone grabs the audience's attention! After all, who doesn't want to save cash? So the brand throws an irresistible special sale to its customers. Moreover, it creates a sense of urgency by letting them know that it won't last long, thus quickening their action.
This strategy is perfect for getting rid of excess stock and appreciating your customers for being part of your brand community. In addition, it's an excellent platform for acquiring new customers attracted by the unbelievable offer.
10. Taylor Stitch Cyber Monday Promo Email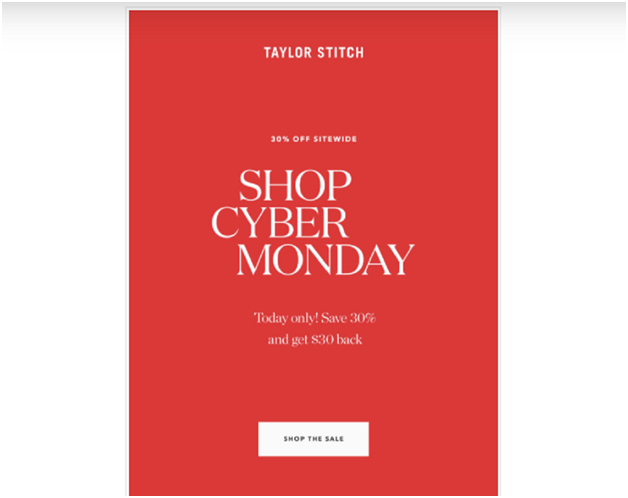 Source: Taylor Stitch email
This email's design is pretty simple and direct. While customers expect huge discounts on Cyber Monday, the email gives them just that! With the contrasting text and background colors, the message is home at a glance. It also has a clear CTA to show the reader the next course of action, redirecting them to the landing page of the products on sale.
The simplicity tactic is excellent as most people are busy and can quickly scan through your email, understand your message and take the necessary action!
Crafting Effective Emails for Successful Email Marketing Campaigns
Email marketing campaigns are crucial contributors to the success of your business. Therefore, you need to give your campaigns the required attention to produce the best results!
The great examples discussed above inspire you to create stunning marketing emails that can help you grow your customer base and build strong relationships with them. Each of them has unique qualities that make them great!
In addition, personalize your emails to increase their open and conversion rates and thus achieve your intended goal.