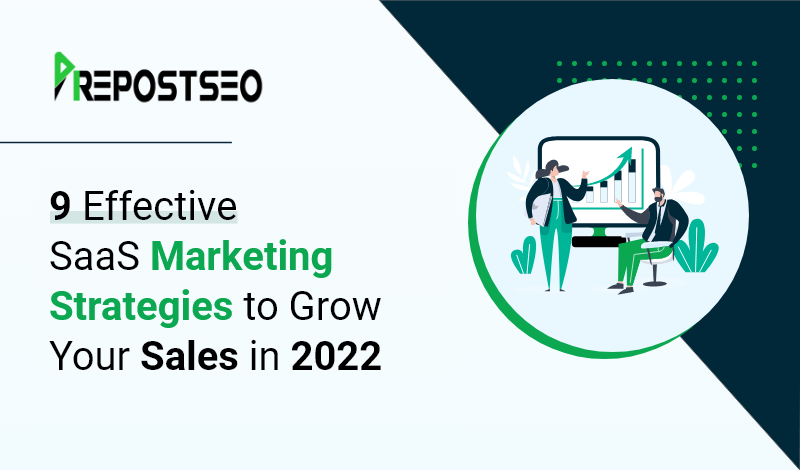 ---
Software as a Service (SaaS) is one of the most vibrant industries today. According to a Statista report, the Software as a Service market is growing by 18% yearly. It is also expected to reach $623 billion in 2023. With the significant growth in the SaaS sector, the quest to stay on top of the competition becomes more challenging. If you are struggling to increase sales for your Software as a Service company, here are nine Saas marketing strategies to help you stand out, attract more subscribers, and get a substantial ROI in 2022.
1.Invest in SaaS content marketing
SaaS content marketing is critical for social media engagement and organic and paid search. It does not only help you reach a broader audience you could nurture into leads and later convert into paying clients. Content marketing is also an effective way to show clients your product's value.
To create a content marketing strategy that drives the desired results, ensure that you first understand your target audience and their pain points. This enables you to create engaging, relevant, and quality content that provides solutions to queries the target customers may have throughout their purchasing journey. When creating content, you should remember that the goal is to build trust and bring more traffic to your website, so your posts should not be promotional.
You should also not limit your content to blog posts alone. Consider offering eBooks, infographics, and whitepapers, among other valuable resources, in exchange for email addresses. A prospective customer's email address becomes a lead you could convert into a paying customer. Be sure to leverage technical SEO for SaaS to produce keyword-optimized quality content consistently to offer value to prospective customers and improve visibility on search engines.
2.Leverage email marketing
Email marketing provides one of the highest returns on investment, usually $44 on every dollar spent, so you cannot overlook it in your SaaS marketing strategy. By sending newsletters and emails regularly, your SaaS company stays on top of your email subscribers' minds. Email marketing also allows you to maintain solid relationships with your existing and potential clients, enabling them to stick around for an extended period.
For successful email marketing, ensure your email content is personalized and created around the buyer persona. Be sure to segment leads by persona and share content relevant to the client's specific challenges and stage in the buyers' journey. This helps you to avoid spamming your subscribers and driving them to unsubscribe from your email list.
Be sure to include visuals to your email content, make your message short and to the point, create an engaging subject line, and add a concise and straightforward call to action link or button to achieve the desired email marketing results. You could also invest in email marketing tools such as MailChimp to track your campaign's performance and make the necessary adjustments to maximize your return on investment.
3.Offer free trials
Most clients will be hesitant to splurge cash on a specific solution before testing it, so you should consider allowing free trials. A free trial is one of the fastest ways to convert a lead into a paying customer, increasing your company's revenue. It enables you to show off your customer services, support, and products, leading to better conversions. Free trials are effective marketing strategies for SaaS companies because, unlike other sectors, you do not incur the shipping and return shipping expenses, so you have little to lose.
To enable the test drive of SaaS products to compel prospective customers to purchase from you, ensure that the free trial is easy to sign-up for. Avoid requiring users to input more information than they should. You should also refrain from demanding the use of a debit or credit card to sign up for your free trial and instead offer the option of paying later to avoid turning off a valuable lead. Be sure also to create a risk-free trial. However, ensure your free trial period is short to create urgency and get your prospects to take action.
4.Enhance customer experience
Did you know customer experience accounts for more than 70% growth of your company's revenue? Customer experience entails the customer's interaction with your company. By providing excellent customer service, you escalate customer retention rates and encourage existing clients to pay more, not to mention benefiting from the word-of-mouth marketing from happy customers. Be sure to provide personalized experiences, automate processes to deliver faster, listen to customer feedback, and offer rewards such as discounts to enhance customer experience.
5.Establish an effective referral program
Referral marketing encourages current clients to refer their network to your Software as a Service company. Building a referral program is an effective way to grow your company because people trust a person known to them over companies. According to a Nielsen study, 92% of customers establish that they trust a recommendation from a family member, friend, or acquaintance over other types of advertising. Here are ways to develop a successful SaaS referral program.
Identify your target audience and define your goals to guide your marketing campaign.
Design enticing incentives: Offer compelling incentives that entice current customers to recommend your solutions while attracting potential clients to sign up via the referral links. Some excellent incentives you could reward include content access or premium product features, discounts, free trials, or coupons.
Create a targeted message tailored to your target customers to build interest in your referral marketing program.
Develop an efficient reporting and tracking system to determine the effectiveness of your referral program.
Monitor key metrics such as return on investment, conversion rates, and customer acquisition expenses and make necessary adjustments, including revising your incentives.
6.Get your SaaS company featured on review sites
Along with recommendations from friends and acquaintances, most individuals and organizations check third-party review sites to form an opinion about a specific solution before purchasing it. For this reason, your company should be featured on review sites specializing in SaaS listings. Such sites include Capterra, G2 Crowd, SaasGenious, and GetApp.
However, remember review sites focus on ratings, so ensure that your solutions score well in different categories, including customer support, pricing, and features, to mention a few. This will enable you to stand out from the competition and build trust among potential customers. Consider sending emails to existing customers with links to the review site your products are featured to remind them to rate your company. This increases your SaaS solution ratings and improves your brand's credibility and visibility in the market.
7.Tap into SaaS video marketing
Most users prefer video to text-only content and are more likely to invest in your SaaS products after watching a demo video. Recent research shows that clients retain 95% of the message after watching videos. Video content lets your customers better understand your solutions, boosting conversion rates. Videos also lower bounce rates and extend visitors' time on your site. There are various ways to leverage video marketing, including:
Making how-to-videos, tutorials, and product demos
Creating testimonial videos to boost trust in your company
Developing videos to showcase unique or new product features
An effective way to get your video marketing to drive the desired results is by gating your product's videos. This ensures that only potential customers who have subscribed to your SaaS solutions can access them. This enables you to acquire more referrals and enhance your lead's quality by filtering out those who do not have a genuine interest in your products.
8.Leverage social media marketing
Social media is an effective way to reach a broader audience, increase sales volume, and build customer loyalty. It allows you to educate your target customers about what your SaaS products can do, and you can even showcase how your solutions have helped your previous customers.
Create a solid social media strategy to maximize the marketing efforts. This entails identifying a social media channel where most of your target customers reside and focusing your marketing efforts there. You should then post engaging content tailored to your audience's pain points to encourage them to interact with you. Avoid promotional content. Consider using social media ads, marketing tools partnering with social media influencers, and conducting polls to appeal to a broader customer base.
9.Launch a podcast
Podcasts have become more popular today, with over 104 million people listening to a podcast as they work out, drive and perform their daily routine. This provides an excellent opportunity to reach a broader audience ready to buy. According to an eMarketer report, 54% of people who listen to podcasts establish that they will likely purchase a product after it is mentioned on a program. For this reason, launching a podcast to promote your SaaS products is crucial.
You could opt to create a solo program or host an influential person in the industry to educate your audience about your products and how they are solutions to your client's pain points.
Endnote
Standing out is crucial in the highly competitive SasS sector. Invest in a robust content marketing strategy. Establish a solid referral marketing program. Offer free trials, get featured on review sites, launch a podcast, leverage social media and email marketing, and enhance your customer experience to attract more customers, increase sales, and boost your brand awareness.