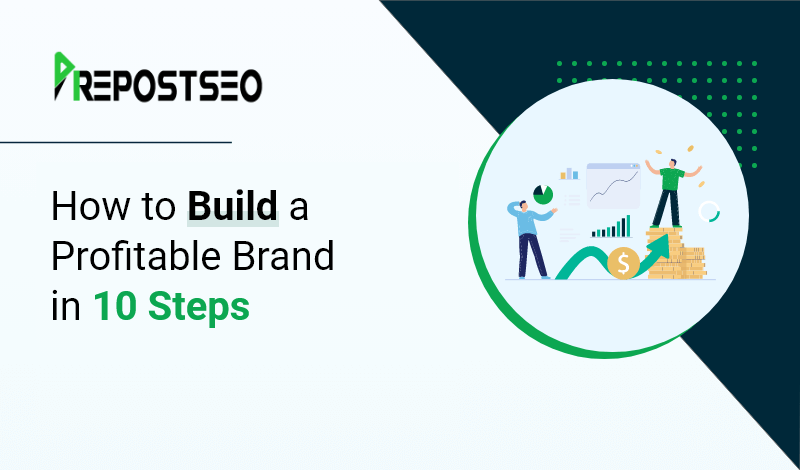 ---
Building a brand and making it profitable is not an easy endeavor. It entails a strategic and comprehensive approach, and the whole process does not happen overnight.
According to this report, 59% of shoppers tend to purchase new products from brands that are familiar to them. At the same time, 21% of them stated that they would buy a product from a brand that they like.
As a business owner, it is important that you look for ways to stay ahead of the competition, especially if you are competing against established brands with dedicated consumers.
Whether you are just starting your business or you want to revamp your existing one, here are a few steps to building a strong and profitable brand.
Devise a plan
If you want your brand building to be effective, you need to develop a concrete and detailed plan first.
While it may be tempting to dive straight into designing your logo, if you don't know the primary purpose of your brand, then whatever you create will prove to be meaningless to your customers.
Think about your strategy based on your priorities. Are you more focused on creating a memorable business name, or should you concentrate first on developing a brand voice?
Having a plan of action can help make your brand building more manageable and less overwhelming.
Research the industry and your competitors
To gain a better understanding of the current market, it is important that you conduct market research. Learn about the current challenges of the industry that you are in and how other brands are addressing them.
If you want to stay ahead of the competition, you need to analyze your competitors and check where they stand in the industry.
Keep in mind that there is a big difference between studying your competitors and imitating them. Regardless of how high-profile their businesses may be, you should never copy what they are doing.
Rather than wasting your time and resources in duplicating their marketing tactics, it would be better if you learn about their strengths and weaknesses instead.
Take a look at their social media platforms and check how they interact with their customers. How do they market their products or services? Are they consistent across all their marketing channels?
Your ultimate goal should be to make your brand stand out from its competitors and convince the majority of their consumers to patronize your business over theirs. By assessing your competitors, you will be able to better position your brand in the industry.
Determine the purpose of your brand
Every profitable brand begins with a compelling purpose. If you want your brand to succeed, you need to establish its purpose in the industry. Ask yourself these following questions:
What is the primary objective of my business?
What makes my brand unique from others?
Why should consumers patronize my brand over high-profile companies?
How do I want to be perceived by my customers?
Aside from your brand's purpose, you should also define your mission and vision statement. If you want to gain the trust and confidence of your consumers, you need to show them exactly how your brand can transform their everyday lives.
Envision the future of your brand five or 10 years from now. How will your brand impact society and future generations?
Modern consumers are now more conscious of what they buy, and they will be more inclined to transact with your business if it has a powerful purpose, vision, and mission behind it.
Remember that these three elements will affect the foundation of your business branding, so it is essential that you take the time when developing them.
Focus on your intended audience
When building your brand, you must hone in on your target audience. While it may be tempting to cast a wide client net to gain a more profitable revenue, it would be strategically unwise to do so.
Remember that your brand cannot and should not cater to everyone. Determine who your target audience is. Who exactly are you trying to reach? What is your brand's buyer persona?
If you know your intended market, you can tailor your branding initiatives to satisfy their needs and preferences.
The goal is to be specific as much as you can. You must narrow down your audience to develop a more focused brand message and make it more relatable.
For your brand to be profitable, you want the right set of people to patronize your business.
Know your business strengths
Another way to develop a strong brand is by highlighting its strengths and the qualities that make it unique. As a business owner, you should know the value that your business brings to the industry.
Remember that knowing your strengths goes beyond listing down the products and services you offer to consumers. It is more about understanding how these offerings can make an impact on their daily lives.
If you want customers to choose your brand over others, you need to give them a reason to do so.
Figure out your brand voice and personality
It is also important that your brand has a unique voice and a distinct personality. Think of the personalities that relate well with consumers. If your brand was a person, what adjectives would you use to describe them best?
Try to list down four to five words that could best represent your brand. As a business owner, you need to know your brand personality so you can look for ways to make it shine throughout the entire brand-building process.
Aside from establishing your brand personality, you also need to define your voice. Is it authoritative, friendly, uplifting, empowering, informative, or professional?
If you want to efficiently engage with your target market, you must choose the right brand voice and personality that best suits your business.
Be consistent
In building your brand, consistency is the key. Unless you plan to do a complete business overhaul, you should strive to stay consistent with all your branding initiatives.
Your goal should be to develop trust from your customers, and the only way to do that is to be consistent. For instance, if you are in the furniture business and your brand is known to deliver high-quality pieces, then you cannot afford to build something substandard.
Being consistent also applies to your brand voice and personality. You need to ensure that you maintain the same voice and personality across all your social media and marketing channels. The last thing you want is to confuse your customers, as it will only make brand building more challenging.
Create an effective slogan
A well-crafted slogan can make a big difference in your brand building. Slogans are not just mere taglines, they are also important assets that can help your target audience remember your business. Make sure that your slogan is descriptive, simple, catchy, and can create a great impression on whoever reads it. Here are a few tips to create a compelling slogan:
Strive to make it timeless
Think of your target audience
Make sure it can stand alone
Make it short and straightforward
Be consistent
Consolidate all your branding efforts
For your brand to be effective, you must make your branding initiatives as cohesive as possible. Your customer should be able to associate your brand in every aspect of your business.
For instance, if a potential client browsed through your social media platforms, they should be able to see the same design visuals on your business website as well.
If they visit your physical store, all your initiatives should be visible anywhere they look. By incorporating your brand across your business, you are ensuring your customers that your business is legitimate and credible.
Develop a unique business name and logo
When building a profitable brand, your business name and logo are two essential factors you need to carefully consider. Remember that your company logo serves as the face of your business.
Since you will be utilizing it in every aspect of your business, it needs to be scalable, identifiable, and effective. You want your customers to associate your logo with your offerings and your business as a whole.
Be creative as much as you can when designing your logo but make sure that it reflects your brand and purpose.
In addition, you also need to develop a business name that will resonate well with your customers. Your business name will significantly influence your marketing tactics, logo, slogan, and other essential aspects of your company, so it is important that you take your time when creating it.
For your business name to be effective, it has to be something easy to remember and recognizable. Online tools such as a business name generator can be invaluable for coming up with new ideas for naming your new business.
Branding goes beyond developing a well-crafted advertisement. Remember that brand building is a long-term process. You need to be determined, focused, consistent, and passionate enough so you can help your brand secure a better position in your industry.