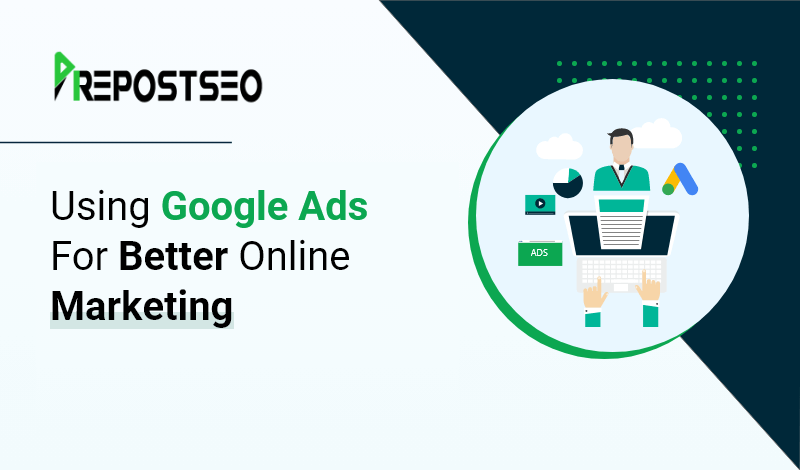 ---
Right off the bat, let us tell you a reason that should push you towards using Google Ads. More than 90% of the consumers in the online world have claimed that their purchasing decisions are influenced by Google ads.
Moreover, since most of the internet users today are on mobile phones, Google ads generate 95% of all the PPC clicks from mobile phone users. These factors alone should be enough for a business to be convinced and use Google ads.
However, it's important to understand what Google ads are and why you should be using them. So, let's get started.
What Are Google Ads?
Google ads is a marketing platform introduced by Google back in 2000. Since then, it has had many names, such as AdSense, Google Clicks, etc. However, nowadays, all these collective services are known as Google ads.
The primary purpose of Google ads is to push paid adverts, services, and products ahead of other SERP pages. The paid ads will appear above the other SERP results in many cases.

As you can see, the button next to the URL says "Ad," which means it's a paid ad. This is how you will see it.
How Do Google Ads Work?
Google ads depend on the keyword intention more than it does on the keyword itself. For instance, if the keyword in a product is "lawnmower," then the search intent targeted by Google would be something like "best lawn mower near me."
This indicates that Google considers local SEO elements when presenting such ads to your potential customer. Since Google runs and handles everything on the SERP, you can rest assured that this platform knows your audience better than you do.
So, how does it all work? And when does it know to put your ad ahead of others?
Your Ad's rank is determined by the quality score that a search engine crawler gives you. This depends on the relevancy of your keywords and the quality of your CTA within your content. Finally, the user experience levels on your website pages are also considered.
The second most important factor in Google ads is the location. If someone looks for something "near me," then it would present those options to the user accordingly. Such as "Lawnmowers near me." So, if the user is within NYC, then it would show them the results accordingly.
Keyword research is an essential process of using SEO. However, it plays the same role in Google ads as well. So, before you publish your ads with Google Ads Management, make sure you use the right keywords for it.
Content Headlines & Meta Data
Content headlines and metadata play an important role in SERP ranks. However, their role in Google ads is even more important. As Google takes these into account when placing them on SERPs.
Ad Extensions are Google's yet another feature that helps your target customer find other convenient services about you. For instance, if your website offers car repair services, the auto parts section will appear here.
7 Reasons To Use Google Ads For Better Online Marketing
Do you know that after searching for a product on Google, 35% of the target customers end up purchasing it within the next 5 days? This is only one of the reasons you should be considering adding Google Ads to your arsenal.
But, if you're looking for more reasons to be convinced, then here are seven of them:
1. Google's Umbrella Covers Of All The Internet
Google's umbrella covers all of the internet. More than 65% of small businesses have a Google-related PPC campaign because of this very reason. As they realize that Google is their best chance at finding their audience quicker than SEO.
2. Stand Out In SERP Among Top Ranked Results
One of the reasons that Google holds the 73% share of the search market is because of its ability to put you ahead in the search results. Therefore, if your wish is to stand out among the top SERP results without SEO-related hassle, pay Google or use PPC to see the difference.
3. Pay Only When Your Site Is Clicked
One of the amazing factors about any PPC services is that you only pay for the clicks the platform will garner you, which in this case is Google. So, if you plan to find a platform and pay for advertisements, then there aren't any platforms better than Google Ads.
4. Target Keyword Intent- Not Specificity
There are around four billion smartphone users in the world today. Out of those, 63% have said that they have clicked a Google ad once in their life. While 41% blindly trust Google ads because of their own credibility. Therefore, keyword intent matters, as it leads the way for your marketing strategy.
5. Quicker Yields Compared To Common SEO Tactics
Out of all the necessities you need to understand Google, you won't have to wait as long as SEO tactics for Google ads' results kick in. Mainly because paid ads work quicker and help you generate better yields without having to wait for high SERP ranks.
Google Ads are popular, credible, and effective. These qualities make this marketing channel a highly preferred option over SEO for businesses wanting to boost sales in the shortest time possible. With ads, data analytics, and other impressive features that Google provides to brands, marketers and business leaders consider this platform a one-stop shop for everything they need.
6. Building Widespread Brand Awareness In No Time
Once your business starts showing up in the top SERP results – sometimes even above them – you will notice your business's growing awareness.
This is made possible because Google places your ads in the top-most relevant search results. In effect, it helps you garner widespread brand awareness swiftly.
Google Ads are excellent brand awareness drivers, generating responsive search ads utilizing machine learning. This technology automatically analyzes and tests various ad combinations to determine which copies are the best for the target audience. Hence, Google Ads accelerates branding, bringing your message to your intended audience without much hassle and effectively.
7. Better ROI Than Most Online Tactics
Some experts suggest that the Google Ads' ROI is 100%! If you are spending $100 on your marketing, you're generating $200 in return. This factor should be enough for you to dive right into the bandwagon of using Google ads, as rarely any other marketing channel offers such benefits.
However, keep in mind that to attain and maintain your brand's desirability and high ROI over time, business owners must consider obtaining consistent online marketing support. An expert digital marketing consultant can help small businesses develop cohesive channel strategies, such as Google Ad optimization, to maximize investment with online marketing support.
Entrusting your online tactics and branding to an experienced business marketing consultant can help create practical marketing strategies that evolve beyond transactional marketing. A consultant has your best interest in mind, developing Google Ad tactics and other marketing strategies independent from agency agendas to boost your sales and overall business revenue.
Conclusion
These are the reasons, alongside a quick guide to using ads on Google with Google ads management. So, try to learn the basics before getting started and gain the seven aforementioned benefits.