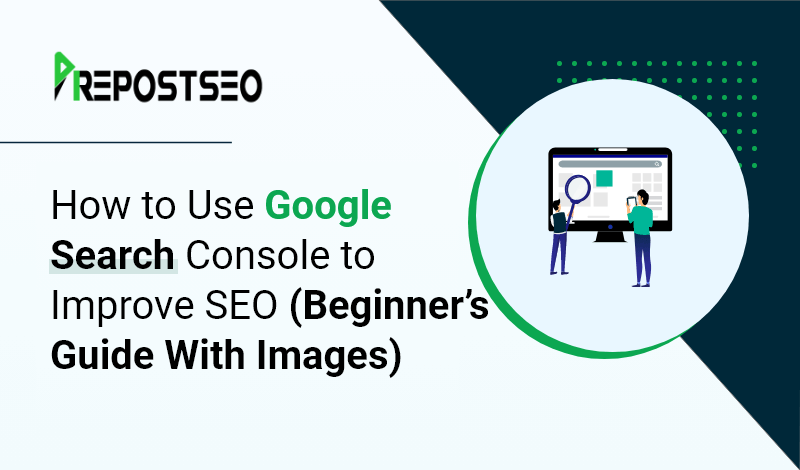 ---
Google search console is one SEO tool that is used by a lot of people to check vanity metrics (vanity and impressions on the website). This tool is one of the powerful tools regarding SEO of sites rather than monitoring metrics; there are a bunch of other uses as well. This guide will make you understand the concept of Google search console.
What is Google Search console?
Before 2015 this tool was known as Google webmaster tool. Nothing from the pocket needed to be taken out for using this tool as it is free with unlimited usage.
Use this tool to troubleshoot and monitor your website, and this tool lets you know where you appear in the search results related to your site.
Other than monitoring, use it to find and fix significant minor errors, see backlinks, submit and check sitemap, and many more.
Features:
Submit and check the site map Keep an eye and set the crawl rate See stats when Google bot access a particular website See internal and external backlinks on your site See which keywords used by Google to lead people to your site in those listed in SERP Check security issues if any and resolve them Remove or add owners to the particular site Rich cards a new feature help you to improve mobile user experience
How to begin with Google Search Console?
Google Search Console is a powerful SEO tool. At first, sign in to Search Console using Google account.
You'll see two options with a heading "To Start, select property type." Choose the first option with Domain written on it, enter your domain name without putting HTTP(s): // and hit the "Continue" button.
The question arise some times that what if you don't want to add your full Domain? The Domain comprises of all the protocols, subdomains and paths. If you wish to restrict it to a single URL path, then use the second option.
URL prefix has a specific address and protocol, which includes HTTP, HTTPS, www, and non-www. This will restrict it to one single URL, and you'll be able to see the stats for the individual address only.
What to do to verify your website on Google Search Console?
Before availing services and data from the tool, you must have to verify first that you own the website. The process of verification is different according to the property type you added.
Straight away, select the instructions that apply to you.
For "Domain" property
Select your provider from the list appears.
After selecting, hit the "Start Verification" button.
Sign in to your particular registrar account and follow further instructions.
In case if your registrar is not in the dropdown list, then you can select "Any DNS provider."
Sign in to your account with domain provider and then select the name of your Domain. Then search up for the option to manage DNS or Domain Name Servers.
After that, add a TXT record, paste in the record from the search console and save it.
Go back to the central Search Console and hit "verify."
Sometimes verification still fails after every information provided, keep trying it may take some minutes to verify correctly.
For "URL prefix" property
Although there are several ways that Google offers. The recommended and default way to do this is to upload an HTML file to the site.
To keep things easy, we recommend you to choose the DNS name provider option and follow the same options as stated in Domain property.
How can you add a sitemap in Google Search Console?
HTML Sitemap is your site map developed in html. Sitemaps are used by Google to locate essential and worthy content on your website and how you help them crawl that content. Using the search console to submit a site map is recommended.
To submit site maps to Google Search Console, go to the menu, choose "Sitemaps" after that paste the URL of your sitemap with XML into the box labeled "Entre sitemap URL" after pasting hit the "Submit" button.
How to add additional users to the Google Search Console?
Users are of three types having access to all of the data or some of the data in Search Console.
Owner:
Having all the rights, permissions, and access to all the data on the Search Console. Owners have full rights to add or remove a user and have the authority to allow or permit users to access the data and other rights. Moreover, there are two types of owners as well: verified and delegated.
Full User:
This user has view rights to view all the data within a particular selected property. Furthermore, full users have permission to take some actions.
Restricted User:
These users have limited view rights and might not be able to view all the data on the Search Console.
The person who verifies the details, as shown above by default, becomes the owner of the site for Search Console. If not or want to add more users, you can follow these instructions.
Go to Search Console Select a Property Go to settings Users and permissions Add user Add email and select permission
By following these options, you can add a user and allow them access as you wish to do so. If you change your mind, just come back here.
How to improve SEO using Google Search Console?
Instead of reading all the reports in Search Console with excruciating boring details, here we will show you some practical ways to improve SEO.
Observe how users are interacting with your results
Four metrics are used. Total clicks, average CTR, overall impressions, and average position.
Total clicks tell the number of clicks that someone clicked on search results during a period.
The total impression tells the total number of times someone saw your search during searching in a selected time frame.
Average CTR is the result when the total number of clicks is divided by the total number of impressions.
Average positioning is the rank position when someone searches through a keyword. From top to bottom, the positions are in descending order.
This information appears when you first open the report. In case if you want to check metrics for one individual page, then you have to select that particular page.
Rank improving; underperforming keywords
Underperforming keyword means that when people search through that keyword and your website doesn't show up in the first two positions. As most people prefer the first two websites, for example, if your position is 8, then you might be missing tons of traffic every day. Positions From 1 to 5 are preferred by most of the people.
To improve bump, the keyword to at least position two and increase the number of jumps to almost 14%.
By jumping a few positions like coming onto the position, two will give you 8x more traffic than position 8.
Ranking in position eight will get you approximately 18 visits per month, and as compared, position two will get you almost 160 organic searches per month.
The question arises on how to calculate and point out keywords not performing well.
These underperforming keywords can be found in Google Search Console, go to the "Search Results" report, and toggle the average CTR and position data report.
After that, go through the query report and set the position filter to below 8.0, and after clicking, the average position will be in descending order as shown.
From this list, you have to skim through and search for the underperforming keywords. Some keywords that are ranked between 3 to 8 but still getting traffic.
Optimizing underperforming keywords can be done through on-page SEO. Optimize the keywords by adding external and internal backlinks by improving page loading speed, and so on.
See the number of pages that are in Google's index
Use Search console's "Coverage" report to see exactly how many pages Google has indexed.
Click on "Coverage," and after that, select the tile for "Valid."
It is recommended that you should compare the number of pages that you have submitted by XML sitemap with the number of pages that have been indexed by Google, mainly for larger sites.
This is important to know if your site has a crawling, indexing, or duplication issue.
Identify Crawl Errors and Unindexable Pages
Sometimes, developers will add established or no-index tags to a page to avoid crawling by Google temporarily, but it may happen they forget to remove those tags. Other times, you remove a page and don't remember to redirect it to a new page.
Fortunately, now Google logs these issues so that you don't have to inspect each page by using HTML to look for errors. These issues can be found by using "Coverage" and selecting "Error" and "Valid" with warnings.
"The new Search Console interface takes a bit of time to get used to, but its updated coverage tool is stunning," says Alisa Nemova of SEO with Love. "It not only shows which pages aren't indexed, but it also explains why those pages weren't indexed."
"It helped me notice a developer's mistake on one of the websites I was working on. The website started losing rankings for no reason. A significant number of pages were no-indexed by mistake. Since that's a very rare mistake, it would have taken me longer to spot it if that wasn't for Google Search Console."
Sometimes you might see error 404 on pages that you have submitted by a sitemap or either using the "Request indexing" tool.
"404 errors are usually a result of old or broken links which have previously been indexed by Google," says Digitopia's Andrew Vinas. "But with this feature, you can easily find URLs on your domain that are producing 404 errors."
Make your pages mobile-friendly
Google mobile First indexing has made it crucial that all your pages will be mobile-friendly. It is easy to find any mobile optimization issues to increase organic traffic.
All you have to do is click on "Mobile Usability" and then look to see if you have any errors. You can see further details of errors by clicking more information.
"I always check all 2,300+ of my blog posts and web pages to make sure that they're mobile-friendly," says Mike Schiemer of Bootstrap Business. "Google checks to make sure that the pages are responsive and quick to load, and that all elements fit on the page and fonts aren't too small to read on mobile."
"Google Search Console provides you with a list of the specific mobile-unfriendly pages and what needs to be corrected. This ensures that your webpages are providing a better mobile experience for visitors—and that they end up ranking higher in search."
See incoming links from other sites to your site
Incoming link building is one effective way to increase SEO. Search Console shows you what other sites have linked to your website, what pages have the most links, and what pages other sites link to most often.
To see the details about your site's backlink, click the "Links" button, after that, click "More" under "Top linking sites" to view all of your incoming links.
See and resolve penalties on your site
If your site violates Google quality policies, then Google might issue a manual action against your website resulting in the removal of your whole site from its index.
Typically these actions are done due to some reasons like buying of backlinks, sneaky redirects, keyword stuffing, or uploading scrapped or low-quality content to the site.
Sometimes your site might get manual action due to things that other people are doing to your site. Hacking is one example if Google finds out your site is hacked, Google will remove a site from its index. Sometimes websites that are uploading low-quality content and giving you backlink will cause manual action to your site as well.
Moreover, manual action is not an issue to be worried about. The symptom for manual actions is when your site drops a lot of traffic, and its worth to check if your site has any penalties.
To check, go to the security and manual actions and check the "Manual Actions report" and enhance your website by removing any bug, error, low-quality content, or anything that can lead to Manual action. This report will also suggest options that you can use to resolve issues.