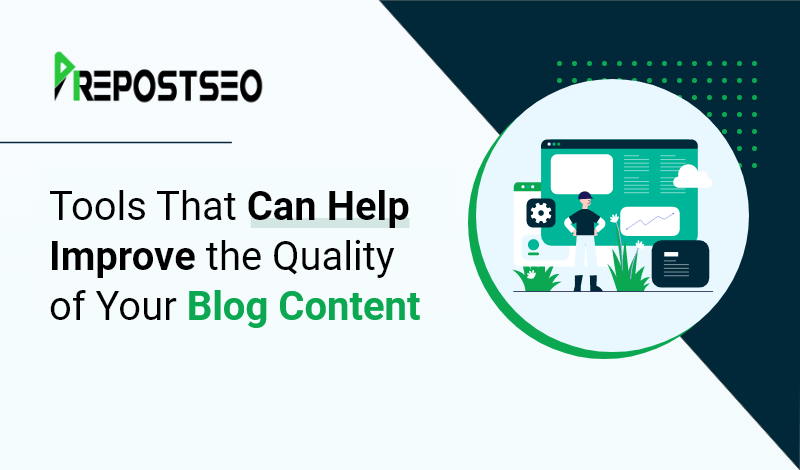 ---
People always crave high-quality, original, entertaining, and informative content that solves their pain points. Content plays a critical role in the success of your SEO strategy and digital marketing campaigns. That's because all your marketing efforts depend upon content to drive engagement, conversion, discovery, and loyalty.
However, producing high-quality content that provides real value to the readers takes time and effort. Working with a reputable content writing service like CopyPress can help you save time and valuable resources in creating high-quality content tailored to your unique campaign needs. There are many different online writing tools that can help you create well-researched, grammatically correct, and easy-to-understand content.
Here are a few tools that can help you write quality blog content that grabs the attention of readers and gets them to click, share, and comment:
1. Topic Idea Generators
Coming up with fresh topic ideas to write about can be pretty challenging. Luckily, content creation tools make it easier to come up with relevant blogging ideas in your specific niche to write on. Some of the best topic ideas generating tools include;
HubSpot lets you enter keywords relevant to your niche and generates up to five blog topics, which are enough for producing content for a week. The topic ideas it generates can help you generate content for your blog site. This tool can also be an excellent choice for improving your productivity.
This is another popular tool that helps you generate topics for your blog posts by simply searching a relevant keyword. You can adjust the tool's topic suggestions to get a perfect fit. This tool also lets you reload your search if you feel the suggested topics don't make sense to look for more options. It also gives reasons why the suggested topics might be great for blog content. This can ensure you come up with compelling topics that will get your creative juices flowing and write captivating blog posts.
With BuzzSumo, you get plenty of information about the content that can do well for social media sharing. You do that by inputting a URL or topic into their search box. This tool can help flesh out existing topic ideas and evaluate the kind of content that does well in your niche.
2. Plagiarism Checking Tools
People want to read blog posts that are unique and authentic. Publishing plagiarized content is one of the greatest offenses any content writer can commit and can make you get penalized by Google. It's crucial to do everything in your power to keep yourself from committing such an offense. This means having a content writing tool that lets you check your content for plagiarism issues. A few of the best-known online writing tools that can help you ensure your blog posts are free of plagiarism include;
Copyscape is one of the most popular and best tools for checking plagiarism. This writing tool can help you avoid plagiarizing content as you write by checking it for similarities with other content already on the internet. This way, you can ensure your content is entirely original before putting it on the internet.
Another must-have plagiarism checker in your content writing tools is Unicheck. This tool checks your blog content against a massive database of more than 4.75 billion sites, journals, and other files and documents online. It lets you quickly identify potential duplication issues by highlighting the plagiarized sentences and paragraphs. It also provides a list of matching sources, allowing you to make changes to your content and ensure it's free of plagiarism.
3. Grammar Checker
Grammarly is one of the best and most popular free grammar-checking tools available. This tool allows you to easily check your content for grammatical errors by simply copy-pasting it into the online grammar check. It scans your content, pointing out all your spelling, style, punctuation, sentence structure, and grammar mistakes. Not only does it let you identify grammatical mistakes in your content, but it also recommends the changes you should make. This helps improve your writing by ensuring you create coherent content without structural or grammatical errors.
Another great grammar-checking tool worth considering is ProWritingAid. This tool mainly stands out for making it easy to find synonyms specifically targeted to your needs. This makes it a perfect choice for making your content's wording more direct. It learns the context of your content as you write, providing you with the most relevant suggestions. This way, you get better word choices to use while writing instead of getting other words. If you're tired of looking for the right words to use when writing your blog posts, consider trying ProWritingAid. Not only does it check your content for grammatical mistakes, but it also comes with an inbuilt-Thesaurus to improve the quality of your blog posts.
4. SEO Writing Tools
All the blog posts you write need to be SEO-friendly so that they can rank at the top of Google search results pages. This helps boost the visibility of your blog content on search engines, driving traffic to your blog. That's why you need the right tools to help optimize your content adequately for search engines. Some of the commonly used SEO writing tools that you can try include;
Surfer is one of the best and easiest-to-use content writing tools for creating SEO-friendly blog content. The tool monitors your content's word count, keyword density, readability, and headlines as you write. This lets you see how well your content is optimized regarding the keywords, headings, length, and more.
It also compares your content to that of organic competitors, helping you to create quality, SEO-optimized content that ranks top on search engines and attracts lots of organic traffic. You also can integrate the tool with your WordPress or Google Docs. This allows you to check your keyword density as you write without switching to a different page or copy-pasting your content.
This is another well-known writing tool for SEO optimization. Besides assessing your content's keyword density, Frase suggests highly relevant long-tail keywords that you can include in your content as you write. You can quickly and easily remove the recommended keywords that don't make the cut. The intuitive tool also provides reasons for each keyword suggestion, helping save valuable time developing context around the keywords you want to include in your content.
This keyword planner tool is another great option for optimizing your content for search engines. This tool works best with keywords but can also help generate blog content ideas. Using the Google keyword planner, you can effortlessly search for relevant keywords to incorporate into your blog content and check their characteristics. This can ensure you use the best keywords for your particular subtopic or topics and get the best outcome from your SEO efforts.
5. Tools for Checking Readability
No matter how interesting your blog topic is, people might not be interested to read it if it's full of complicated words and sentences. It's vital that you make your blog content as easy to read as possible for your target audience. Fortunately, there are content writing tools that you can use to spot and eliminate complex sentences and phrases from your content. This maximizes the readability of your content and ensures the highest quality possible. One such tool is the Hemingway editor.
Instead of focusing on grammatical mistakes in your content like Grammarly, Hemingway is especially useful for analyzing your text for style and readability. This app makes it easier to identify complicated words and sentences in your content by highlighting them. It also checks your content for excessive use of passive voice. The app also highlights phrases in your content that can be simplified.
After scanning your content, the app gives you a grade level to help you know the kind of audiences who can understand it. Fixing the complex words and sentences highlighted by the app can lower the grade level, increasing your content's readability score. The score is usually updated in real-time as you make the changes to your text. This helps simplify your writing, making it easier to read and understand by a greater audience. On top of that, the app has an intuitive interface and comes with color-coding to make it easier to spot and differentiate the different types of issues with your text.
Endnote
There are many different online writing tools that can help streamline and simplify your content writing process. With these content writing tools, you can save a lot of time researching blog topics, proofreading, and performing quality checks to ensure your content is of the best quality possible. The tools mentioned above can help you come up with blog topic ideas that interest your target audiences.
This way, you can ensure that you always create content that best resonates with your audiences. They also help make sure your content is always free of structural and grammatical errors and it's easy to read and understand. Some of these tools also help you optimize your blog content for search engines, outranking your competitors by ranking it top on search engine result pages. Leveraging these writing tools can help you focus more on creating quality blog content and less on proofreading. This ensures you consistently produce high-quality content for your readers, helping solve their issues while keeping them engaged.