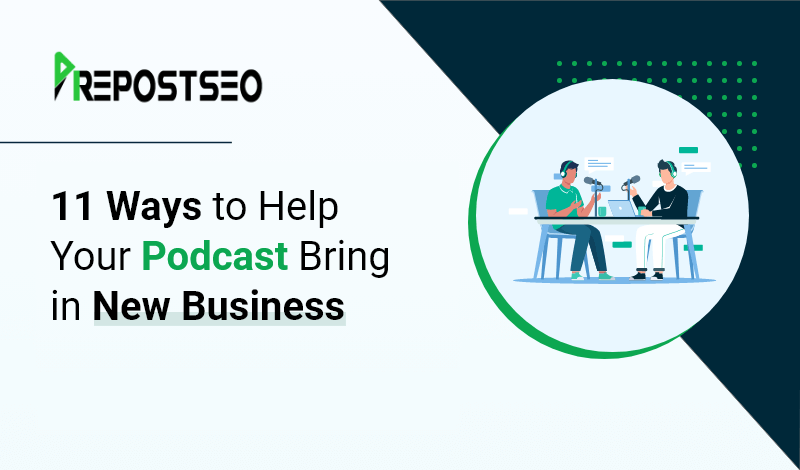 ---
To the average consumer, a podcast is a fun listening experience while you're out for a walk, doing chores, or resting. However, to a business, it's a marketing tool you can use to bring in new customers and listeners.
If you're trying to come up with ways to increase business, you may be surprised that search engine optimization (SEO) plays an integral role. Learn more about how SEO and other practices can help your podcast stand out from the crowd.
Podcast Search Optimization
When you start a podcast, you likely have a topic in mind that you'll cover in each episode. You might have a business podcast, an investment one, or even a crime podcast. Whatever your niche, take the time to optimize what you're offering so that avid listeners can find it.
This involves claiming your podcast on Google Podcasts Manager, which can help your podcast appear in search engine results and Google Podcasts. If you file your podcast under business, people looking for business podcasts may see your offerings.
Be Clever With Keywords
One of the most surprising things about podcast creation is that keyword research is just as important with it as it is with blog posts, articles, and website content. Keyword research is crucial to stay relevant and ensure what you're producing is what people want to see and listen to.
Before creating a podcast, use the predictive search feature in your preferred search engine to find out what people are looking for. See what prepopulates to give you some ideas about the type of content you can cover in your podcasts.
When you have a list of keywords you believe are being searched, you can start working on your podcast and incorporate them into it. This doesn't mean you need to read out the keywords, as these won't be picked up by any algorithms for higher rankings.
Instead, keywords should be mentioned in strategic locations such as the episode title, the show notes, and blog content you create surrounding your podcast episodes.
Win Backlinks
The more backlinks your podcast has, the more it may be seen as an authority in the podcasting world, allowing it to be noticed by more people. Winning backlinks for any of your podcast pages can be as simple as welcoming guests onto your podcast, promoting it to well-established sites, and engaging with other podcasts.
When you prioritize backlinks, you can improve your brand awareness, attract more visitors, build relationships with people and businesses, and even establish long-term success.
Once you have laid a foundation for this success, you may find it easier to attract more listeners with less effort while even receiving inquiries about advertising.
By working hard at the beginning, you may find that remaining relevant is less labor-intensive later on.
Request Reviews and Ratings
If you listened to other people's podcasts before creating your own, you might have noticed that many podcasters ask for ratings and reviews at the beginning or end of the audio. While they are undoubtedly interested in your feedback, there is also an SEO component to it.

Many podcast platforms use ratings and reviews as a ranking factor established with AI to determine the most popular podcasts. These will be easier to find and may see more listeners as a result. Don't be afraid to ask for a review at the beginning or end and even offer incentives like competitions to encourage people to leave their feedback.
Encourage Engagement
Some podcasts are just that incredible that the hosts don't need to encourage engagement. People will tune in each week to find out the latest on a topic that interests them. This can often be true in story-telling, current events, and even crime podcasts.
However, all podcasts can benefit from listener engagement to increase their following and work in harmony with their SEO practices. Sometimes, you have to physically tell your listeners that's what you're looking for.
The more engagement your podcast has, the more it may be seen as an authority in the podcast space. Make a point of asking people to like the podcast, subscribe to it, review it, and leave a comment if it's on a platform where that's possible.
Be honest and upfront about your intentions and say that the more engagement you have, the more your podcast grows, and the more amazing content you can create.
Create a Website
You may have created a podcast with the intention of casting it from leading podcast platforms, but consider making a website to function as its home base instead. Doing so can assist with link building while allowing you to include written content to help with SEO.

With a page for each episode, you can focus on including any information that search engines can look upon fondly, such as transcripts, blog posts, text descriptions, video clips, and more.
When you add such information to your website, both you and your followers' benefit. They can see where you got your information for the episodes to ensure its accuracy and can even read the transcript if they're unable to listen to your podcast.
Use Social Media to Your Advantage
Podcasts can be just one piece of the puzzle when you're trying to increase engagement and refine your SEO practices. Create a social media business page for your podcast so that you can post when new episodes are released and to help people learn more about your podcast and the creators behind it.
You might also see the value in creating a community page where your fans and followers can discuss episodes.
The more people engage and talk about your podcast, the easier it may be for search engines to recognize that it's an authority and is deserving of being found by more people.
Along with relying on organic growth courtesy of social media, consider familiarizing yourself with the many business tools to increase your engagement. Creating and running ads might be how you give your podcast even more traction in the public space than it already has.
Purchase Google Ads
There are many ways to help your podcast build up a following using SEO and other practices, but these all take time. You might have recently adjusted your metadata to be more search engine-friendly, but you can't expect immediate results.
While your organic growth ticks away in the background, purchase Google Ads to give your podcast the push it deserves. Buy ads that incorporate specific search terms relating to your podcast and what people search for.
When people type some of those terms into their search engine, they may see your podcast with a link directly to it at the top of the search results. You can set a budget that works for you and even add a timeframe for when you want the ad to run.
In the background, your other SEO techniques like strategic keyword placement on a website can be working their magic and helping you move further up the search results organically.
Post Regularly
Growing an audience and profile is most podcasters' primary goal. You may be able to achieve just that by posting content on the same days each week or fortnight for listeners to look forward to. If they know what day to expect your content, they may be more likely to tune in each time.
However, many podcast schedules are sporadic, which means it may be a case of trial and error to see whether weekly, fortnightly, monthly, or at random is right for you.
Publish Your Podcast At the Right Times
Some business owners have recently noticed that many of the leading social media platforms are now offering suggestions on the 'best' times to post content. They've taken data from when people are the most active and turned it into usable information to improve your online presence.
Similar data can be available for podcasts.
You may be able to see when you get the most engagement so that you can post on a specific day and at a specific time. If you're unsure, take note of what your competitors are doing. If you notice a pattern with their posting windows, see if you can replicate it and pay attention to your engagement and views once you make those changes.
Try Influencer Marketing
While not technically an SEO practice, influencer marketing has made a significant difference in the popularity of many podcasts and impacted their SEO simultaneously. Influencer marketing involves working with people with a big following who have similar audiences to your own. By having them talk about your podcast, you may be able to see an increase in the number of followers you have.
Influencer marketing also enables you to generate natural backlinks for your website, which, in turn, improves your site ranking. The more engagement your chosen influencer helps you to get, the more you may also notice your search engine ranking going up. There can be many natural benefits associated with working with top-level social media users on Instagram, TikTok, and other platforms.
Bringing in new business is something many podcasters and business owners aspire to do, but it's not always easy. By factoring these tips into your business plan, you may stand the best chance of seeing the results you desire.