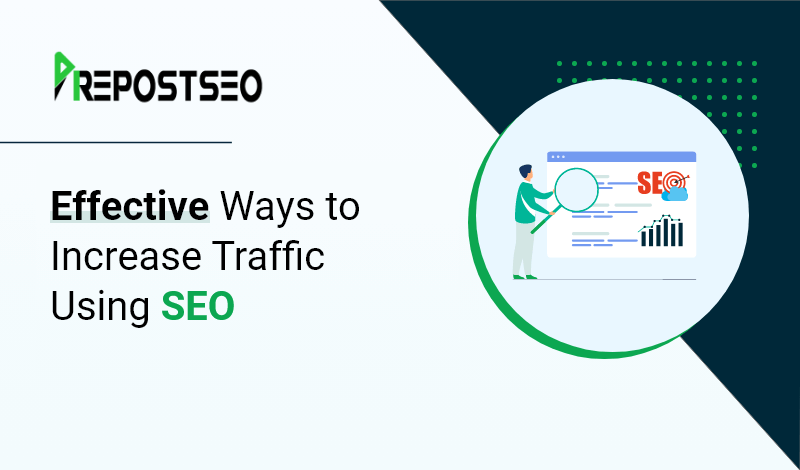 ---
The last two years have taught many business owners the extreme importance of having a presence on the internet. As lockdowns were imposed across the world, it was the businesses that mainly or exclusively operated online that thrived.
Amazon only got bigger during the pandemic, and other companies such as streaming platforms, and food delivery services, all experienced an uptick in sales.
However, not all businesses are as well known as Uber and Netflix. Smaller businesses can sometimes struggle to get enough traffic to their website. Even if they do get some traffic, they also need to convert these visits into sales.
How can a business increase its website traffic?
If you are reading this article then there is a high chance that you have heard of search engine optimization. Even if you are a newbie looking for ideas to develop the effectiveness of your website, you have probably heard of SEO.

You can use SEO to boost the number of people heading to your website when used effectively. There is true SEO, and then there is the bad kind. Generally speaking, quick fixes are not the way to go, and some very dubious SEO practices should be avoided.

When done properly, you should end up with a website that is optimized, provides a great user experience, runs smoothly and fast, and is secure. A good website should attract visitors, engage them while they are online, and ideally secure a sale.
What SEO practices should be avoided?
There is a great temptation with many people to cut corners to get fast results. Just as there are companies online who promise to provide thousands of Instagram followers instantly, or to get 5 star Trip Advisor reviews. There are also SEO experts who promise instant results.

These methods are sometimes called black hat SEO tactics. They go against all of Google's Webmaster Guidelines, and will not help your visitors, or your long-term success.
Some black hat SEO techniques include the following:
Keyword stuffing
Automated content creation
Redirects
Doorway pages
Duplicate content
Hidden text
Cloaking

There are many more techniques such as these that should be avoided which include buying links or even hiding them.
What would happen if you chose to employ black hat SEO techniques?
You might enjoy some success on search engine result pages initially. However, it will almost certainly go wrong very quickly.

You can compare what will happen to the business that paid for TripAdvisor reviews. At first, they rose to the top of their category, and then enjoyed more visitors to their establishment. Then they were penalized for breaking the rules and ended up right at the bottom in a worse position than when they started.
Google and Bing will ultimately penalize any website that breaks their guidelines. This means not showing up in SERPs, and that means fewer visitors.
You have to think long-term for SEO
Although there are good ways to improve your SEO quickly, your strategy should be aimed at the long-term for ongoing and future success.

However, this shouldn't put you off having an SEO audit performed, and improvements made. Many simple fixes can improve your SEO in no time at all.

For instance, there are many SEO tips for businesses during the holidays. With the festive season coming, many businesses will want to optimize their site for visits aimed at Christmas purchases.

Short-term improvements could include checking that your website has an XML sitemap, that it is working correctly, and that is registered with Google. Below are more ways to improve your website's SEO and get more business.
If appropriate, look at your local SEO
Does your business largely operate locally? Are you a plumber, a tree surgeon, or a pizza delivery service for example? Companies that mostly rely on local businesses should look at their SEO in this regard.

A plumber in Tampa, Florida, does not need international visitors to his or her website. He probably doesn't even need any custom outside of a 20-mile radius. So, local SEO is important in this case.
To do this, you should improve on the following areas:
Build links with local authorities
Try to get reviews of your business
Make sure all contact details are correct and visible
Make sure the above is consistent across social media and other websites
Register on Google My Business

Good local SEO will result in your business appearing when anyone in your area searches for something your company deals in.
How to increase visits to your website
There are many areas of SEO that affect how your website performs for the user, how it appears on SERPs, and how much traffic you receive.

There are professional SEO agencies that will perform an audit of your website, and put together a strategy to improve its performance. This will cover technical SEO, as well as on-page and off-page optimization.

However, some areas are particularly vital for improving the flow of traffic to your website. These are a selection of them.

Add new content
Add video and images
Optimize all content
Use relevant keywords and phrases
Remove dead links
Improve the overall user experience
Improve mobile compatibility
Improve your website's content
One essential factor for any website is to have engaging and relevant content. Remove out-of-date content, and regularly update and add new information for your visitors.

There are many ways to make your content more engaging, and you could consider using guest posts on a relevant subject. Also, consider adding quality images and videos.

Research has shown that audiences are engaged more and for longer when a video is involved. Images are also very important and should be relevant to the content.

You should optimize all the content on each page of the website. This means researching the best keywords to use and including them naturally in articles and other content. You should look at all image and video files and make sure they are saved in the correct format, at reasonable sizes, and with relevant titles. Include keywords in your URLs, and look at all the links on your site.
Include relevant links and remove dead ones
Where relevant, try to include links to local authorities. Also, put in place links to your internal pages, where relevant. Do an audit and check for any out of date, or dead links. Remove anything irrelevant.
Improve the UX of your website and mobile site
Using the internet on a mobile device is far more popular today than using a desktop to do so. This means it is vital that your website operates as it is intended to on mobile.

You should also look at the general user experience of your site. Google now ranks websites on how well they perform. A slow, clunky website will drop down the SERPs resulting in fewer visitors.

Also, if your website is slow to load or doesn't perform correctly this will lead to a higher bounce rate. According to the Nielsen Norman Group, the average user spends 10 seconds on any website, and this is when they work properly.

Although there are mixed messages about whether bounce rate affects SERP results, it is still good practice to make sure your site keeps visitors online.
You should also look at social media
While it is believed that social media doesn't necessarily impact SEO directly, it will still have an effect on visitors arriving at your website.

Keeping active on social media means that you can create more links to your site, and drive traffic. Your posts can be used to lead people directly to sales landing pages, and to promote new products.

According to Statista, 2.89 billion people are using Facebook regularly in 2021, so there is a huge potential to grow your consumer base there.
Summary
There are many aspects to SEO, and if you are new to this area, you may want to use the services of a specialist agency. However, there are many areas that you can improve yourself.

Look at your links, external and internal. Improve the content, optimize files, tags, and meta descriptions. Improve the overall user experience, and remove bottlenecks when it comes to loading times. Lastly, make sure that you are mobile-friendly.

Add to this some activity on social media, and your intended audience should find it easier to find you, and engage with your content.