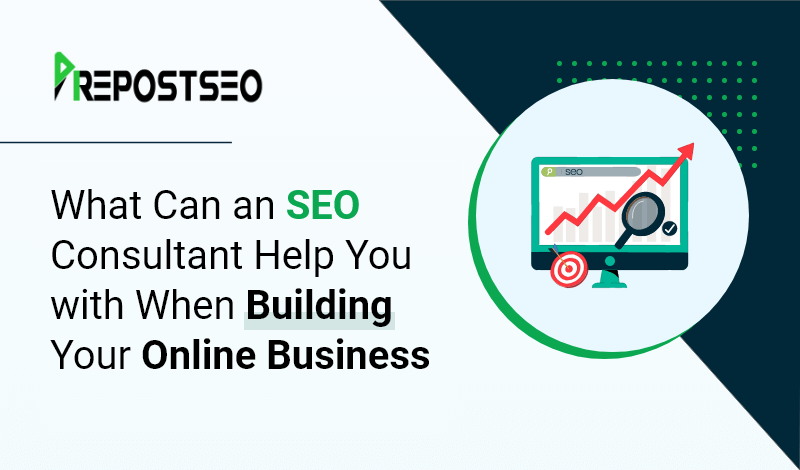 ---
It's a realization for many business owners that a strong web presence is crucial to attaining successful sales and marketing online. Search engine optimization (SEO) helps a website become visible in search results by optimizing your web pages. For online businesses, implementing a long term effective SEO strategy is highly recommended, so more people can see and access your online shop or store. That's why you'll need the professional help of an SEO specialist. An SEO consultant plays a vital role in achieving your online business goals. Below are some ways an SEO consultant can help you with when building an online business.
Provides Expert Advice on Getting Higher Rankings
An SEO consultant is an SEO expert who can provide advice about the best SEO practices for promoting your online business. It's important to hire a professional SEO consultant with lots of experience in providing clients' SEO strategies. Trusted and reputable SEO consultants provide expert advice about beating your competitors, how to acquire inbound links, how to make your website more SEO friendly, and the types of content your website should have to drive higher rankings and organic traffic. When it comes to getting higher rankings, an SEO consultant can give you great insights into the best content strategy for a specific marketing campaign you want in place. SEO consultants are highly knowledgeable on white label SEO or good SEO practices and Google algorithm. With strict compliance, they'll ensure that your website complies with the latest guidelines to avoid getting sanctioned and lowering your ranking in search results.
Help You Attain an SEO Friendly Website
Building an online business is not as easy as it may seem. Aside from making your web design amazing and user-friendly, you also want your website to become visible on the first page of Google and other search engines. To achieve this goal, an SEO consultant can help you have an SEO friendly website. SEO consultants offer SEO implementation services, including backlink generation, and broken link building strategy, local SEO, and content marketing. These services will make your website SEO friendly without compromising the quality content and experience your target audience will benefit. Here are some ways an SEO consultant can help you attain a more SEO friendly website:
Creating and outreaching new content Helps in creating or earning new links Build new local citations for your local online business
Perform SEO Audits
Remember that a crucial part of SEO engagement is SEO audits, regardless if it's a one-off technical SEO audit or involving a large monthly retainer. You'll find SEO consulting firms that offer only audits (SEO and backlink audits). It helps online business owners to know what's wrong with their SEO strategies and how to improve the content to make it more appealing to the target audience. SEO consultants and agencies who work on a monthly retainer also perform audits. It's a part of their overall engagement, which helps identify new issues. Also, you would find SEO consulting firms that provide proactive services, like help with building out new sections of your website or making necessary changes to optimize your website better. Content is a part of the successful SEO strategy. Performing content audit can help you to increase organic traffic, and find out the mistakes in your content.
Help You with SEO Budget
One of the most challenging jobs of an SEO consultant is to build business arguments in order to get the buy-in of executives to provide an additional budget for sales and marketing. It means that SEO consultants can help your internal team get more resources in implementing changes in your SEO strategies for a more successful online business. Of course, you'll greatly benefit from the expertise of an SEO consultant if you're a marketing manager, to help convince the board or the business owner to provide your department a higher budget for SEO implementation. For startups, an SEO consultant can help you decide the first SEO steps you need to do to ensure you'll attain positive results even with a limited budget. Here are the important roles of SEO consultants to help a business owner build and manage large-operating online businesses:
Get web developers to work on important SEO-related tasks Convince the web developers that SEO matters Convince your executive why SEO matters Convince the finance head the importance of hiring more developers to implement SEO changes best Convince HR to hire content writers for SEO and content marketing purposes
Provides On-Site SEO Education and Assistance
An important task of an SEO consultant is to keep you abreast of the latest SEO industry changes to help you create optimized content. For one thing, Google constantly makes search changes that greatly affect SEO. Because of changes in Google algorithms, even websites or online businesses with established names are also affected; many of these websites dramatically reduced their search engine ranking because of changes in Google algorithms. SEO consultants teach online business owners about on-page SEO. This refers to optimizing individual web pages to rank higher in search engines, earning more relevant traffic. As opposed to off-page SEO involving external signals and links, on-page SEO refers to managing your content and your HTML source code. An SEO consultant can help you with the following on-page SEO factors:
Title tags: Get the right title tag that's optimized, which work wonders for your SEO. Description tags: This tag is important for on-site SEO, and an SEO professional is needed to get it right. Meta tags: An SEO consultant can give you advice on the meta tags that are important or relevant to your online business. Quality content: An SEO consultant will guide you towards achieving high Google or search engine rankings by checking that your content is well written. Keyword density: You don't want to mess up keyword density because too many keywords, keyword stuffing, may ruin all your SEO efforts. An SEO consultant can help you avoid getting penalized by Google for over-optimization. Must avoid keyword stuffing to achieve desired goals. Latent Semantic Indexing (LSI): Google needs to crawl and index your website by identifying common words or related words for each page. Hiring an SEO consultant can help you get higher ranking by ensuring that search engines can easily crawl and index your web pages. Site structure: An experienced SEO consultant will assess your web pages if structured data is used to support your listings, and if duplicate content issues are handled correctly. Headers: An SEO consultant can also check if your headings and subheadings are using the proper keywords and correct HTML tags. Site speed: This factor is crucial because the internet gets faster. Your online business should stand out by offering your customers a fast-loading website, so an SEO consultant can help you attain this goal while ensuring that your SEO is not compromised.
Provides Off-Site SEO Education and Assistance
Off-Site SEO involves SEO efforts outside your website, including link-building, social media marketing, and shareable content. As an online startup business, you want your brand to get exposed in various online channels, so you need an SEO expert to guide you on how to implement off page SEO strategies. More often than not, off-site SEO practices are customer-focused. The strategies implemented are used to engage with potential and existing customers. That's why it's important to hire an SEO consultant who's well-rounded both on-site and off-site SEO and avoid the same SEO mistakes businesses commit.
Here are some of the off-site SEO strategies you should consider to kickstart and grow your online business:
Link Building: Bad SEO practices were ended because Google updated its algorithm when it comes to ranking websites. While there are horrible ways to get links, you want to get the authority and good links, and an SEO consultant can help you ensure that you're getting the right backlinks.In that way, nothing can ruin your rankings. Also, you safeguard the future and success of your online business. Social Media Marketing: An important partner of SEO is social media marketing because of the real people behind social media platforms. An experienced SEO consultant can provide expert advice on how to make your content viral on social media platforms, such as Facebook and YouTube. By getting more shares, likes, tweets, pins, stumbles, plus ones, favorites, and upvotes, you'll get a lot of direct traffic, giving your business branding a great boost. Content Marketing: A trusted and reliable SEO consultant can help you present your content to other platforms, targeting your desired customers. These consultants have the perfect idea of using best content writing tools including Plagiarism checker, grammar corrector, and word rephrase tool e.g.
Content marketing helps in generating more revenue for your online business, most especially if visitors find your blog very helpful. An SEO consultant knows how to create useful, shareable, and free content and distribute it around the web.
Conclusion
SEO consultants are well equipped with the knowledge, skills, and experience in SEO. As you have probably realized, SEO is a complex aspect of digital marketing. Every business wanting to establish a solid web presence need SEO, most especially online businesses or ecommerce. If you want your website and business to stand out from your competitors, you should have a great product, excellent customer service, and a great SEO strategy.