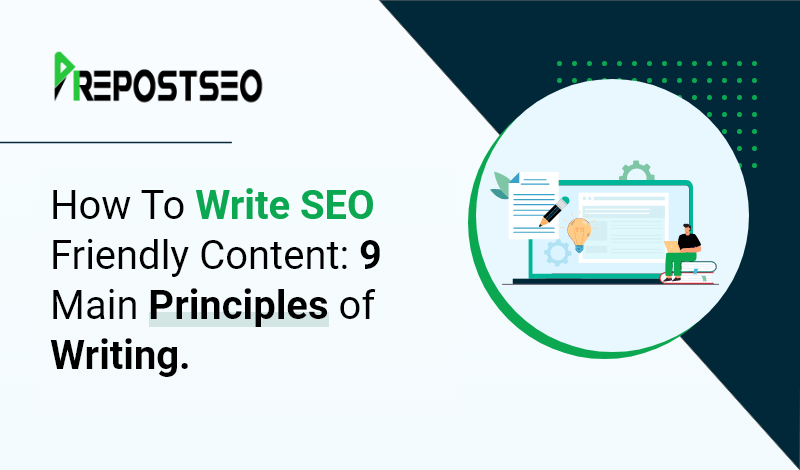 ---
It is not enough just to create a website. Its further promotion and visibility in search engines are much more important and depend entirely on quality content. Effective content attracts both readers and search engines alike.
---
SEO content: what it is and how to write SEO articles
Text optimization is the very first step in website promotion. It can be done together with the writing of the article, or immediately after. We recommend that you use the first option. And even better-optimize SEO content even before writing it. First, make a detailed plan of your actions, and then get to work.
This scheme will allow you to avoid illiterate key phrases and protect you from losing logic in the article itself. Besides, the SEO content will be organic and easy for the user to understand. If you correctly optimize the written text, then the positions in the search results will be very high.
---
SEO writing tips
In this article, we will lay out the top 10 principles that will help you create SEO-friendly content and make your site truly successful.
---
Create unique content
There's no point in creating new content if it doesn't stand out among other, similar content. Even if you borrow an idea from another source, you still have to offer your own unique vision that will add value to a particular topic.
On the Internet, there are many different services for checking plagiarism. They can help you test the content of your resource for uniqueness. Duplicate content, by and large, is not rated by search engines. In fact, it will be useless to increase its ranking in search engines.
---
Optimize headlines
The title of the material is the first thing that users encounter when performing a search query. That's why its role is incredibly important. When choosing a title, the main thing is to take your time, think carefully and estimate the options. Make a list of suitable options and choose the most vivid and accurate one.
When creating a title for SEO articles, you can, and sometimes even need to use basic keywords. However, you should not try to use them at all costs. To create a clear and attractive result, you should avoid redundancy and use selling words and phrases.
---
Pay attention to content structure
Not only the semantic content and attractiveness of the content but also its structure has an impact on the page ranking. The structure significantly helps search engines decide which results they will display first.
Thus, a clear structure of SEO contents with headings and paragraphs that make it easier to read is most preferable from both the user's point of view and the search engine's.
The importance of the structure and headings in the material helps search engines to quickly view your content. That is why it will be useful to use a relevant keyword at least once.
Whether you follow the H1-H6 structure or simply add the H2 and H3 headings in the corresponding paragraphs of your material, the search engine evaluates the clear structure of individual fragments of your content.
---
Use keywords
Currently, when creating SEO-friendly content, keywords are less often used as a primary signal indicating what the speech is about. However, they are still useful for reviewing the general topic that you are writing about.
Keyword research and selection are still useful when choosing the most exciting topics for your audience.
Keywords can be part of your content, as long as they are used in context logically and in moderation, without redundancy. There is no need to sacrifice the quality of the content to add as many keywords as possible.
Because an overabundance of them can lead to the opposite, not the desired result.
---
The main thing - readability!
The readability of the text is directly related to the simplicity of the language used, the absence of grammatical or syntactic errors, and the structure of the sentence.
Online readability tests allow you to determine the readability factor of the material for a specific age of the audience, and this indicator depends on:
the length of the sentence;
number of syllables per word (word length);
frequency of use of the passive voice.
When evaluating the readability of the text, remember that your text is created for people, and not for the sake of search engines. Only high-quality content can captivate the reader, achieve reciprocity and lead to maximum audience coverage. As well as to make your text seo friendly.
---
Use internal and external links
Internal links can help you confirm your authority in a particular area by creating a logical sequence from one post to another. This creates a specific series of posts that adds value to your content by making it easier for search engines to work.
External, or outbound, links are used to confirm that you are knowledgeable in the area you are writing about and are willing to use additional sources to support your content.
It's more helpful to link to reputable sources, as these links inspire more credibility.
However, be careful: overuse of links, both internal and external, can lead to exactly the opposite results. Make sure each of the links in your content is relevant and has a purpose.
---
Optimize images
Image optimization provides an extra opportunity to display content in search results. But this time - in image search. As visual content becomes more visible, it cannot be excluded from SEO writing. Fortunately, it doesn't take much time to optimize the images.
All you need is to use a few simple tips:
Save the image file under the appropriate name.
Pay attention to the size of the files, it affects the page loading speed.
Don't forget to add alt-text, a short description of your image.
Focus on high-quality images and avoid general plans.
---
The main focus is on the user
You can't start creating content or search for keywords without knowing your audience. What does your target audience expect from you? How can you improve the user experience?
All of the above questions can be answered by studying the features of your site, content, and determining the target audience. Google rewards resources that focus on user interaction. Therefore, do not underestimate the importance of this component for creating friendly SEO content.
---
Make a correction
Unless you have very good typing skills, you may make mistakes when writing. Make sure you proofread your articles or posts very carefully before you publish them. It would be a good idea to proofread twice to eliminate all errors.
Consider Guest Blogging
Guest blogging or guest posting pertains to writing content for another website. This blog writing strategy helps attract traffic or more visitors back to the website. If you decide to take advantage of guest posting, it's crucial to ask for the help of a reputable guest posting service provider that works with verifiable publishers. It can deliver better quality link building to improve your SEO.
Here are the advantages of hiring guest blogging:
Guaranteed Live Links: With guest blogging, you have the assurance that you'll get live links that are worthy of your time and money. Your website has more chances of gaining more visitors because of guaranteed live links from credible publisher sites. Guest blogging services contribute content on behalf of their clients to earn high-authority links for their SEO campaign.
Boost Your Other Online Marketing Tactics: You can acquire do-follow links based on your chosen anchor to accelerate your digital marketing strategies. Do-follow links are links that search engines allow pointing back to your blog or website. The more do-follow links you have on your website, the more your brand gains greater authority.
Learn more about guest posts here and how this type of content can help improve your SEO.
---
Where can you get unique SEO content for your site?
Writing competent and relevant text is not an easy task. It is quite difficult to comply with the required number of keywords in an article without losing its logic and the meaning it conveys.
Fortunately, this area of activity has a lot of professional copywriters who will certainly, for a modest fee, help you with this complicated task. Writemyessays.me provides such a service.
Its team will help make the content interesting for readers. Having practical experience in writing this kind of work, professional writers will be able to interest your audience.
---
The use of SEO-texts depending on the format of placement
---
For the homepage
Here you should not write bulky texts. It is important to show the essence: the main advantages of the company, new products, advantageous offers. Content is better divided into blocks, so the user can quickly scan the page with his eyes and find what he needs.
---
For a blog
The quality of the material is crucial here. It should be large and expert articles that fully disclose the topic and have rich semantics.
---
For an online store category
They use small texts with 1-2 keys. You can add links to articles from the blog so that the reader can read in detail the features of the product or service.
---
The main rules of SEO articles in 2021
Here are brief characteristics of good optimized material for SEO writer:
The article should be interesting for the reader: to give new knowledge, to help choose a product or to introduce the company.
There are 1-2 keys in the natural form for every 500-700 characters.
Indicators of keyword density and wordiness do not exceed the recommended values.
Informational texts are voluminous, containing enough words describing the topic.
Divide the material into paragraphs. It should consist of short and long sentences, has lists, and visual content.
Separate every 3-7 paragraphs by H2 subheadings.
H1 headline attracts attention and reflects the essence of the article.
---
In conclusion
Proper SEO text is no longer a set of key phrases. Thanks to the fact that search engines penalize bad quality, copywriting has reached a new level. Gradually, the Internet is being cleared of junk text. Businesses are turning around to face the customer and starting to take a human approach to content. Both site owners and visitors benefit from this.