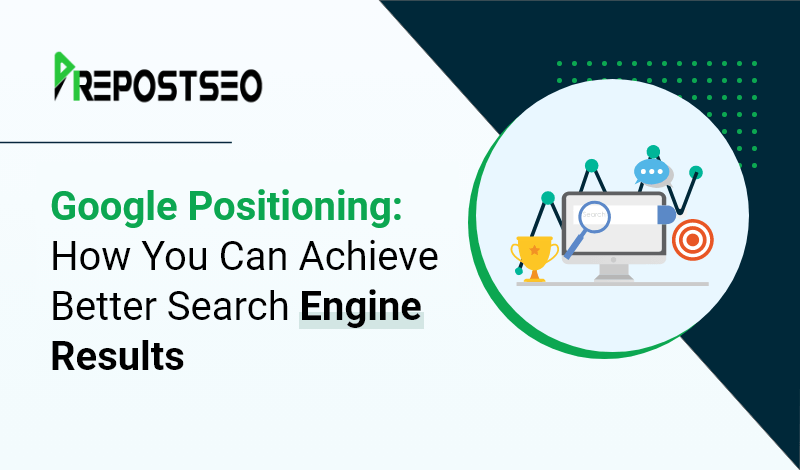 ---
Google's first page is probably the most coveted location for any website or a business owner. After all, it's the largest search engine globally, and ranking on the first page means more exposure, visitors, and money!
Before you can start achieving these higher Google rankings, you need to understand what search engine positioning is and how it works.
In this article, we're going to:
Give a brief explanation of search engine positioning.
Explain why a site's positioning in search rankings is essential.
Share a few great tips on how to rank higher in search results.
Before you can start improving your position in search results, it's critical to understand what search positioning means.
What Is Search Engine Positioning?
Search engine positioning, or Google positioning, is a type of search engine optimization (SEO) that focuses on specific pages rather than sitewide SEO and keyword optimization. The goal of positioning is to improve the search ranking of web pages through continual optimization.
Remember, SEO focuses on a site's ranking as a whole, while positioning focuses on the position of individual pages.
Why Is Positioning Vital to a Site's Performance in Google Search Results?
Your site's rank in Google search results can have a significant impact on your site's performance. According to a recent study by Backlinko, earning the top spot can earn your page more than 30% of clicks.
The first three links earn the most significant share of organic traffic, while the links in lower positions earn progressively less. The study shows that improving your ranking by one spot can also improve your click-through rate by 30%.
If you're not sure where to start, don't worry! We're going to share a few of our tips to help you improve the positioning of your web pages in Google search results.
Write Quality, Keyword Optimized Content for People and Search Engines
If you don't write informative, keyword-optimized, top-quality content, you'll never be able to improve your Google ranking position. It's vital to note that stuffing the content with keywords will do more harm than good. Try to keep your keyword density between 1% and 3%.
Don't focus only on keywords, though.
The Google algorithm also measures topical authority. In other words, it can understand the context behind the content of an article, blog post, or page and determine whether it's worth showing in Google search results.
Unsurprisingly, longer, relevant posts that answer users' search queries can typically earn a much higher position in search results.
Keywords are still important, though, so don't forget to optimize your article or page appropriately. Use catchy titles and click-worthy meta tags, and ensure that your main keyword is present in both. It's also a good idea to add the keyword to the URL.
Use the Right Title Tags and Schema Markup
Using the correct tags and markup throughout the content can have a significant impact on your Google position.
Start by using your keywords in the headings throughout your content. It's also a good idea to use questions in your titles and then try to answer them in as much detail as possible. Don't forget to include your specific keywords!
It's not just about earning higher rankings anymore, either. The top spots in search results now include various "SERP features," including:
Featured snippets
"People also ask" sections
Top stories
Knowledge graphs
Video and image results
Recipe and Shopping results
Improving a page's positioning now means maximizing the potential of your SERP, using rich snippets, and earning a high average position for your site. Learning how schema markup works can be tricky, but your improved rank in Google search results will be well worth the effort.
Re-Optimize Existing Content
Google is continually working on improvements for its search algorithm. It's possible that Google releases around 600 minor updates every year! If you want your high-ranking content to keep its high position, it's vital to keep it updated and optimized.
Make a habit of testing your older posts with online tools to see if they need an SEO update. Evaluate the keywords, update the meta description, and perform standard on-page optimization. You can also use Google Search Console and Analytics to see if there are any particular keywords you should target.
You'll also have the opportunity to update old posts with new, relevant information. That'll help turn an old post into a great post that'll deliver results.
Use Internal Links
Once you've started optimizing your page to improve its performance in Google search, it's time to start improving your internal linking strategy. However, before you can get started, it's crucial to understand Domain and Page Authority.
Domain Authority (DA) is how Google and other search engines rank your entire website. High-ranking domains (typically with a score of 50 or above) are more likely to earn a higher position in search. That said, search engines also assign Page Authority (PA) to the individual pages on your site. You can find a free tool online that'll help you evaluate your site to find pages with a high PA.
To increase the position of your new blog post or page, you need to link to it from your higher-ranking pages. It'll also improve your overall site search ranking.
Improve Your Click-Through Rate
Your click-through rate (CTR) is how often people click through to your content when your link appears in search results.
Google uses organic CTR to figure out if your page is relevant to a keyword or if it's a poor fit. That's one of the main reasons why it's a bad idea to optimize for irrelevant keywords in an attempt to funnel more traffic to your website - you'll negatively affect your results, and your position will drop.
A good average CTR is around 3%. If it were to go up to, say, 5%, Google would take that as a sign that your link is exceptionally relevant to a specific keyword. However, if it dropped to 1%, Google would know that the content is irrelevant and position your site lower in its results.
In short, the more clicks you get, the higher you'll place.
Optimize Your Images So Google Can Understand Them
Did you know that you can SEO optimize the images on your website? If you use a CMS like WordPress, you may have noticed that you can add Alt, Description, and Title tags to your images. These tags help Google understand what the image is about.
Why is that important?
If you remember, we mentioned above that the top Google search results can now include images. If your photo is relevant to the keywords in a user's query, Google might show your image in one of these top positions. That makes it easier for users to find your content.
Adding the correct tags with the right keywords can boost the amount of traffic your site receives. In turn, that'll increase your click-through rate and help you improve your search position.
Improve Your Google Core Web Vitals Score
Google has hundreds of ranking factors it uses to determine whether to show a website or not. Most website and business owners try to target these signals through SEO.
What are Core Web Vitals?
Essentially, Google Core Web Vitals (CWV) are new ranking factors you'll need to target if you want your site to score a high spot in search. Web Vitals will make up a significant chunk of your page experience score - the point system Google uses to determine whether your site provides a user-friendly experience.
The better your score, the more likely you are to improve your rank. That said, keep in mind that there are about 200 different factors, so you won't improve just by enhancing your CWV.
Largest Contentful Paint
The largest contentful paint, or LCP, is how long your pages take to load for a specific user. One might load quickly, while another loads much slower due to images, videos, or other issues.
You can check your score in one of three ways:
Google Search Console
Online checkers (Webpagetest.org, GTMetrix, etc.)
Google PageSpeed Insights
Try to aim for around 2.5 seconds or lower. Anything above that, and you'll get a "needs improvement" or "poor" score.
First Input Delay
First input delay (FIP) measures how long it takes before users can interact with your page. For example, actions can include:
Choosing a menu option
Clicking on navigation links
Filling in data fields
This is a critical score since it's how Google measures how long it takes for real-life users to interact with the site.
Cumulative Layout Shift
Have you ever visited a website, and just before you manage to click on something, it moves to accommodate a new, previously unseen, or unloaded element? That's a prime example of how you can earn a poor cumulative layout shift (CLS) score.
Make sure that you give elements the correct sizes so that users don't experience any nasty surprises when they visit your website - or Google will know.
Use the Right Google Tools
If you want to improve your SEO, it's critical to take advantage of tools like Google Analytics, PageSpeed Insights, and Search Console. These tools are designed to give you insight into how your site is performing and how to improve it.
You can also check the monthly search volume for keywords, see if you appear correctly on mobile devices, and spot any critical issues. That data is invaluable, so remember to put it to good use.
If all else fails, try using Google ads to boost your results temporarily.
Conclusion
Improving your page position in search results might not be easy, but it'll be well worth the time and effort. Remember to research your keywords, perform the right SEO, and put valuable Google data to work for you.
By taking the proper steps, you'll be well on your way to improving your average position and get more visitors to your site. Additionally, you can always reach out to digital marketing agencies to help you out with your strategy.