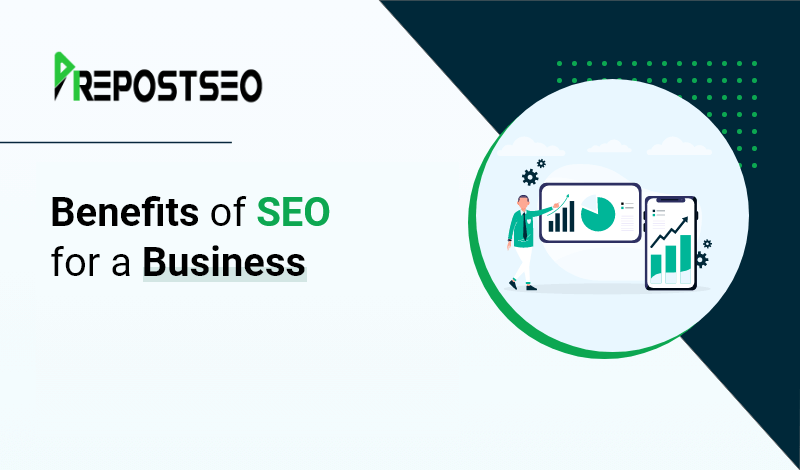 ---
SEO verbally as well as literally stands for Search Engine Optimization. SEO is a system that improves the quality and quantity of website traffic (visitors to the website) and enhances these web pages' positioning in search filters or search results accordingly.
Since organic search is the most profound and widely adopted way to access online content, it becomes necessary to apply a good SEO strategy to any business or non-professional website that one owns to reach a broader audience ultimately.
Nowadays, business and digital marketing work hand in hand; for any business to function in the most prominent style and get enormous profit and development on its plans and schemes, SEO is mandatory in the online world. You can avail of or buy SEO services at any authentic agency.

Therefore, we will discuss a handful yet valuable and worthy benefits of SEO in a business. So, let's get started.
1. Have Qualitative Leads.
As per the probable 60% of B2B marketers, SEO can generate more leads than any other marketing strategy. Moreover, the same applies and is valid for B2C marketing.
A major study published by the Search Engine Journal demonstrates that SEO leads tend to have a 15% closure rate, whereas outbound leads only tend to have a 1.9 % close rate. These figures significantly point to how crucial SEO can be for your company or business.
2. Bound to be Trusted.
PPC or Pay Per Click advertisements are marked above organic search results. It is also interesting to note that 67% of the population prefer to click on organic search results.

"Zero Limit Web" researched the subject, and they inferred that people trust the algorithms very much.
It happens because they are well aware that advertisers are paying for top slots, and hence they espouse visiting the pages the search engine suggests to be the best. If your specific business website ranks organically, it helps people trust you more and get more traffic to you while you reap SEO benefits.
3. Long-term Business Strategy.
While effective SEM may manifest a remarkable influence on the company in the first couple of years, the SEO efforts will ultimately build over time, resulting in improved outcomes for the coming several years, ensuring longer-term market development.
The number of SEO outcomes and ROI is directly proportional to the amount of money, work, and time spent on it by the visitors and the target audience.

You certainly will have to be cautious of the SEO services that guarantee instant results since it might be a possibility that they use black hat techniques to increase the traffic.
These practices are unethical and despised or condemned by the Google algorithm, and they may downgrade your website.
4. Stay Upfront in Competition.
Suppose two marketing agencies run in the same industry with identical products and services and other equivalent factors. And the only comparable difference is one of them uses search engine optimization. Which one do you think will profit the most?

Of course, the one that appears on the first page of search engine results.
All you will require is to conduct a few keyword searches, and you will be good to go with meta description and the website's name visible on your screen after they have been through optimization filters. It will eventually enable you to fit your customers' keyword search and keep you an upfront than your competitor.
Strengthens Brand Image and Voice
When you consistently work on specific keywords for months, the ranking will get better, and it will also strengthen your brand's voice. When customers search for keywords and your brand unfailingly does better in the results, it will help you gain the trust of your existing customers and new customers.
Over time, proper SEO will help your business make an impactful voice in the long run. People will think of your brand when they hear that keyword. This, my friend, is the best you can get out of investing in SEO.
Now that we have covered a majority of the benefits your business will get from SEO, let us also see some things which you must have:
Patience: SEO is not a day's or one week's job, and you will have to work on it regularly without worrying about the outcomes to get results.
Persistence: As discussed, you have to be persistent when you need regular efforts. Without it, everything will go in vain. So, be at it all day long.
Balance: Seek a proper balance between paid and organic SEO. They both must go hand in hand. It will accelerate the process of SEO and multiply the outcome.
Professionalism: You will need an expert by your side. There is no over-stressing to this point. If you are a learned man and keep yourself updated with the changing algorithms and trends, you can take care of it yourself. But why not focus on your main task and leave this to someone already a pro at it.
Conclusion
Therefore. SEO is of crucial importance to firms planning to make it big. Your brand will definitely ace ahead in the competition with SEO and integrated marketing efforts combined with super quality products and service.
SEO offers numerous benefits for businesses that run on digital marketing systems apart from offline trade. It not only gets them the attention of the target audience to increase sales but also strengthens depths of trust and enables customer reliance.