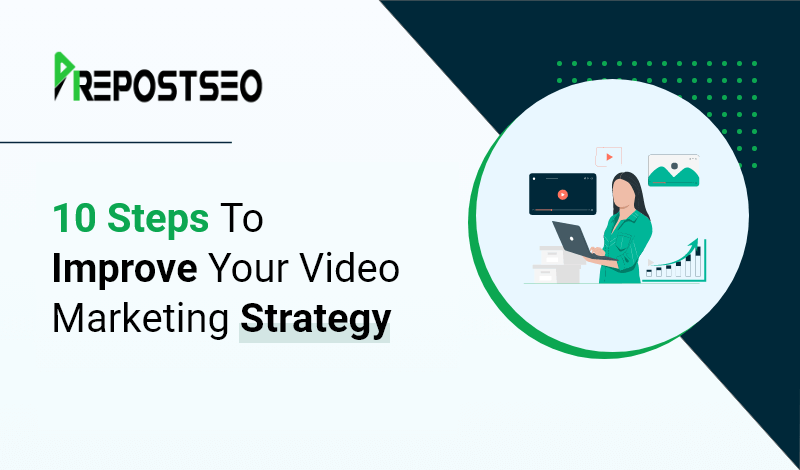 ---
Videos play a vital role in the marketing world, and they're not going anywhere anytime soon. Videos are no longer a content marketing trend as they're an integral part of any company's marketing plans.
In short, including videos in your marketing isn't only an option but an essential element to boost your conversions.
As more people prefer videos, you should do your best to level up your video marketing strategy. With the help of a video production company like Zipinmedia, you can create an effective marketing strategy that will help you engage and reach your target audience in no time.
If you already have a video marketing strategy and want to take your efforts to the next level, make sure to follow these steps:
Know Your Audience
If you want to get results with your video marketing efforts, you should never try marketing to everyone. While having viral videos that everybody loves is social proof of your popularity online.
Your video marketing strategy and every video you create must help you achieve your marketing or business goals, like driving traffic, sales, and awareness.
However, before you can reap the benefits of the rising value of video content, you need to know your audience. First and foremost, research your audience's preferences and needs.
Determine the channels they often use for streaming or watching videos. It's also essential to know their needs or challenges so that you can offer them the solutions they need.
If you speak your audience's language and understand their motivations, you can connect with them in a more meaningful way. Besides, videos tailored for your audience's needs or questions offer better outcomes for your company while enabling you to help your audience.
Plan Your Video Marketing Content
Before recording your videos, it's wise to have various ideas so you'll know which videos to prioritize in the long run. Planning your video marketing content won't only save you time, but you'll also be able to stick with what you're trying to achieve.
Some of the ideas you can consider for your videos are as follows:
How-to videos
Step-by-step guides
Videos that contrast and compare
Inspirational stories
Q and A sessions with professionals
Researching platforms like YouTube is never a bad idea when looking for other inspirations. Many videos can spark your creativity when making new content.
The most popular kinds of videos you can create are:
Instructional Or Demo Videos
These videos are best to encourage customers to buy your services or products.
They're like having live demonstrations but better. When creating them, be sure to highlight the steps to use what you're selling correctly.
The goal is to inform your viewers regarding your products and services. It can take on in different ways, including graphs, charts, and showing actual data. Such videos are also beneficial when used along with the demo videos to explain totally what the customers must expect after making a purchase.
The type of video you create must always be related to what your company is all about.
For instance, if your business revolves around tech gadgets, creating product reviews on your products is a good idea.
Have A Posting Schedule
Viewers expect content updates, so it's crucial to think of your videos in terms of campaigns rather than posting videos randomly. Envision the stories that you could tell and break them into several parts, posting new updates every week.
Once you've established your video content, make a posting schedule. Maintaining and creating a consistent posting schedule is the best way to encourage your target audience to come back and watch more videos.
Also, it can be helpful to space your videos out and use them to lead the viewers up to an exciting announcement or big product launch.
Continue implementing new campaigns based on your posting schedule to keep your target audience engaged in your content. It'll also help establish your company as a leader in your industry if you post helpful video content consistently.
Brand Your Videos
When creating effective video marketing content, always keep consistency in mind for your digital branding.
It makes it easier for your audience to recognize you once publicized to see your videos. It also shows how professional you are, allowing you to build your audience's trust.
Decide what branding elements to include in your videos. These elements may take any form, which may include:
An outro or short intro
Brand logo in the corner
A unique clothing item you wear when recording
Make Your Video Topics Clear
Many videos are competing for the attention of your target audience anytime. For this reason, it's best to communicate the video topic with your description and title.
You should provide enough information with your description and title, so people may decide whether they like to watch your videos or not. Typically, viewers will decide whether or not to watch your videos based on your title.
If you like your viewers to finish watching your videos, you have to provide them with an informative and accurate synopsis.
In your abstract, highlight the benefits that your viewers will get from watching the videos or delivering the plot points if it's a narrative.
Transcribing your video may also help enable your viewers to skim the content they want. It also allows search engines to crawl your videos.
Optimize Your Videos
To get viewers, you have to make people find them first. It's crucial for YouTube marketing as it's the second biggest search engine.
When optimizing videos, you need to be familiar with the best video practices on every platform. Here are the following approaches for videos on every social media platform:
Upload the videos directly. However, keep them short and balance between not over-targeting and fine-tuned targeting to track results accurately.
Facebook
Keep the videos short. Upload them directly to your account, and don't forget to add catchy captions.
When you launch your video, wait for a few weeks to refine your target audience or make necessary tweaks.
Aside from optimizing your videos for social media channels, you must optimize them for SEO by using the right keywords in your title and writing quality descriptions.
Use Customer-Generated Content
People enjoy seeing themselves in the videos, so why not make them the stars of your content? To do that, encourage them to make videos of themselves while using your services and products. Then, post the videos to your website and social media profiles.

When your potential customers see what other people experience in your videos, they'll likely share them with your family and friends. Each time somebody shares your videos, your brand will get exposure to a broad audience.
Include A Call-To-Action (CTA)
Video marketing strategies should include specific actions you want the audience of your videos to take. With that in mind, it's crucial to incorporate a CTA in your videos.
Your CTA tells your viewers what you like them to do next. Without it, your viewers will leave your videos without taking any action, even if they're satisfied.
Adding powerful and simple CTA to your videos can help boost engagement from your interested viewers.
If they've watched your videos, they've shown clear interest. It's where you prompt them to take action with your CTA.
CTAs may vary depending on their purposes and forms. Inspire your users to act with various CTAs, such as:
Offer a free trial period
Ask them to follow your social media accounts
Get them to sign up for your newsletter
Direct it to your official website
Suggest other related videos
Direct it to another content
Ask questions they can answer in the comments
Promote On The Right Channels
Each type of marketing aims to reach out to potential customers for your business. Regarding video marketing, you need to promote your videos on the right platforms or channels to get results.
The best thing about videos is that they don't only provide visually appealing kinds of content, but they also let your company reach out to more customers and grow your online presence. To achieve these, you need to use the appropriate channels.
If you're wondering how to choose the correct channels for your videos, the most effective ones include social media sites, emails, blogs, and search engines. However, you have to opt for a channel based on your audience's demographics and behavior.
Always Analyze Your Video Performance
If you want to create a successful video marketing campaign, you need to evaluate and understand the effectiveness of your video marketing strategy.
Most video hosting websites include analytics and can provide you with an idea of how your videos perform.
You can use analytics to learn more about various metrics, such as the percentage of people who clicked your videos and the number of times your videos played. You can also integrate your videos on your website.
This way, you'll monitor the results and get the same level of insights with your videos as other content on your website.
Bottom Line
When done right, video marketing provides your viewers the opportunity to know your business or brand in a way that some forms of marketing can't. What makes video marketing different is that it closely simulates the experience of one's interaction.
Moreover, considering the steps mentioned, it's never impossible to get your desired results with video marketing.