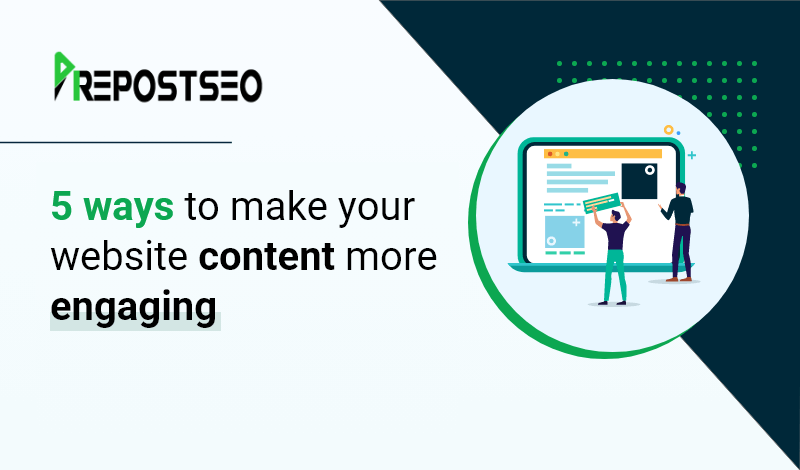 ---
When people visit your website, they'll want to see high-quality content that tells them more about what you do and how you can help them. Strong content provides value to your audience and will help increase the conversion rate of your website.
But you don't just want to make your content informative — it should also be engaging. This will increase the chances of you holding your ideal customers' attention long enough for them to make a purchase.
In this article, I'll give you five tips that will help make your content marketing more engaging so that you can catch and hold the attention of the people you're looking to sell to.
Enhance your written content with visuals
There are several benefits to including visuals in your written content. One is that visuals can help grab your readers' attention, especially in today's world where people are constantly scrolling through tons of written text on different platforms.
Another reason for incorporating visuals into your content is that it is sometimes easier for people to process information in a visual form. Studies have found that 65% of people are visual learners, so imagery can be the best tool for getting a lot of information across in an easy-to-understand way.
Here are just some of the types of visual content you could create to make your content more engaging.
Infographics
Infographics allow you to present a lot of different kinds of information visually. Many people make use of infographics when they want to explain complex data or long-form content. It helps simplify information while still getting the message across clearly and concisely.
If you aren't sure where to start with creating visuals, Venngage has a great infographic maker you can try out for free. Simply choose a template, start entering your data, and you'll have an attractive infographic in no time.
Original photos
The benefit of using original images is that they add a level of authenticity to your website. It could be actual photos of your products, or you could decide to use pictures of your team to show prospective customers that they will be working with real human beings.
Illustrations
Custom illustrations are another type of visual that you can incorporate into your website content. They are a unique type of design that usually involves cartoons or abstract objects and can be used to help a website stand out.
Diagrams
Diagrams can be very useful for explaining processes or trends to readers. For instance, flowcharts or graphs are mostly used to illustrate data and patterns in a way that is easier to understand.
Let's take a look at some websites that already use visuals effectively.
First, we have an illustration from Help Scout, a company that provides better customer service management solutions. Coincidentally, it's included in a blog post about the importance of illustrations.
As you can see, this illustration does a great job of showing the process the company goes through when turning a rough idea into a polished design. This is very interesting and works really well as you can clearly see the difference between the two stages with the illustration that they have included.
Another example is an infographic from Quick Spout, a business that provides resources to help companies grow online. In this post, they have created an infographic that explains how to create a perfect headline using catchy visuals and short dashes of text. The infographic is attractive, effective, and informative.
This infographic works because it displays key facts and concise information about the topic, and it has been created with catchy and attractive colors that are sure to grab the reader's attention.
Harness the power of video content
Video content is becoming increasingly popular, and for a good reason. Research has predicted that, in 2022, 82% of the world's internet traffic will come from watching and downloading videos.
Videos are particularly sought-after because they help convey large amounts of information that doesn't overwhelm the viewer, and they are also great for engaging users.

There are lots of different types of content you can create with video. Let's take a look at some of them.
Tutorials
You could create tutorial videos of how your products work, or on general topics related to your business. For example, a beauty brand might create make-up tutorials, but not center their products as the main focus. Or an online pet store could create dog training videos and not feature their products at all. The goal of the tutorial is to show your expertise while driving more traffic and engagement to your website.
Here is an example from Looka, a platform that helps businesses create custom logos for their brands.
On their logo maker page, they have a simple video tutorial that explains how to use their service. The video is very engaging, and the process is explained by a member of the company's team, which helps to humanize the business.
News updates
You might also consider creating videos when you want to give updates about happenings in your company or your industry. An example could be for the launch of a new product or the announcement of an event you're planning to host.
Informative content
Videos can also be used as informative content. For example, if you have a blog post about a particular topic, you could also create a video based on the same subject and embed it into the blog post you already have. This gives people the option of whether they would like to read or watch your content, making it more engaging.
Another example of a business that uses video content well is Copyleaks, a plagiarism detection tool. They use a video on their homepage, which shows what they do. You could argue this is a lot more engaging than a paragraph of text.
The video explains why users would benefit from using a plagiarism detection tool while also giving an overview of how the platform works.
Provide value for your audience
If you can provide genuine value with your content, prospective customers will find your site far more engaging.
Let's take a look at some of the types of content you could be creating to provide real value for your target audience.
Useful (and free) tools
Creating free tools like quizzes and calculators is one way to provide value for your prospective customers. By providing these tools, you'll ensure that your audience can interact with your website and find things that will help them even if they aren't purchasing from you yet.
An example comes from Helix Hearing Care, a company that provides hearing aids for its hard-of-hearing customers.
On their website, you will find a free online hearing test that website visitors can take to find out if they have hearing loss. This is an example of a handy and free tool that can be of tremendous value to prospective customers. It works because it is a very engaging tool that takes people through different tests to figure out if they might need some help with their hearing. It will also help attract more visitors to their site as many people would be interested in taking such a test.
How-to guides
How-to guides are detailed pieces of information that you can use to provide more information for your audience. These outline the complete process for performing a particular action and tend to come in the form of written guides or video tutorials, as I've already covered.
One company that provides value with how-to guides is FreshBooks, an accounting software provider for medium-sized and small companies. Their guide to writing a winning invoice letter is a great example.
In the guide, they talk about the steps that small businesses can take to write an invoice letter that wins clients and they do this with clear examples for each step. As a result, they show the amount of expertise that they have in the subject area, which can help increase the level of trust their customers have in them.
Asides from this post, they also have several other articles and guides that discuss accounting, invoicing, productivity, estimates, and many other areas of interest for both existing and prospective clients.
Stripo is another brand that does a great job of providing value for their ideal customers with how-to guides.
They specialize in helping business owners to create professional and responsive email templates without having to use HTML.
This means they want to attract people who are already interested in email marketing, which is why they publish content like this guide to building a powerful follow-up sales email.
This is a topic a lot of marketers and business owners will want to know more about, so this is sure to prove very engaging for their target audience.
The article solves a common pain point, shows off the company's expertise, and subtly promotes the company's services without a hard sell. This makes it a very engaging how-to guide and provides value for both website visitors and the company itself.
Educational resources
You can also create a library of educational resources that will be useful for your prospective customers when they come to your website. You could make resources like audiobooks or blog posts containing valuable information that helps educate your visitors.
Buying guides
A buying guide will inform customers about what they need to consider when choosing a product or service. They're great for simplifying the buying process for prospective customers because you will be providing them with more information about specific features of your products or service, a comparison of other products, and any additional information that will help them reach a decision.
Take a look at this example from Overstock, an online retailer that sells different categories of products ranging from furniture to kids' clothing.
In their guide to the best shag rugs, they've shown their expertise by outlining what people might be looking for when purchasing a rug, and how they can choose the right one to suit their requirements. They have also included high-quality pictures of each of the rugs so people can get a good idea of what they would look like in their home.
As a retailer that sells a variety of rugs, they understand that buyers can sometimes be spoilt for choice and would have trouble making a selection. So they have created this engaging guide that takes that stress away and makes the buying experience a lot better.
eBooks
eBooks come in a digital format and can be read on electronic devices like laptops and mobile phones. They offer an excellent way for businesses to provide detailed insight into a specific topic. These are particularly great because they can be downloaded so prospective customers can have the information even after they have left your website.
HubSpot is a company that understands the importance of providing free eBooks for their audience. As a company that helps its customers with various tools that improve marketing and sales, they understand that there is a need to educate people on these topics.
As a result, they've created a library filled with hundreds of free eBooks on various aspects of marketing, including but not limited to social media, inbound marketing, and email marketing.
These eBooks help show their expertise on a variety of topics and make it clear that HubSpot is committed to helping people improve all aspects of marketing for their business.
Answer commonly asked questions
By creating content that addresses questions people already have, you'll let prospective customers know that you are aware of what they need and can help to solve their problems, both with your content and your products.
But how can you work out which questions you should be answering? Here are some tactics you can use to decide.
Keyword research
One way to identify questions you should be answering is by performing keyword research. Keyword research is the act of finding relevant search queries that users are inputting into search engines. When you use keyword research tools to search for queries that are relevant to your niche, look out for questions you know your audience would love the answers to.
An example of content created to answer a common question is this post from Mailchimp on how businesses or individuals can get started building an email list from scratch.
Starting an email list is an area that most business owners find tricky and, as an email marketing platform, Mailchimp has aimed to answer the questions surrounding this. A piece of content like this can attract your perfect audience, build trust with them, and lead to more sales or sign-ups.
Forums
Forums are a goldmine for finding questions that your target audience is already asking. You can find these questions by visiting platforms like Quora, Medium, Reddit, or other online forums and typing in keywords that are relevant to your niche. When you do this, you should see questions that relate to your business, and then you can decide to create content that answers them.
By listening to the FAQs your customer service team get
It is important to listen to the questions that your customer service team gets from customers as these will tell you precisely what your ideal audience wants to know.
Another example of a business that creates great content while answering important questions is Linkio.
For example, they have created this very detailed piece of content that provides value to their readers. But the most important thing to note is the title of this article. It is in the form of a question that asks how to find email addresses, which is no doubt a question that is frequently asked by their customers.
Choose the right format for your content
For every piece of content that you create, it is very important to pick the right format that is most suitable for it.
There are some factors you need to consider when choosing the format for a particular piece of content. Here's what you need to keep in mind.
Identify your audience
You should start by identifying your audience. To select the right format for your content, you have to know who you are creating that content for. Once you can visualize your ideal target audience, it will be easier to decide what format to use for your content.
Type of information
The next thing to do is determine the type of information you want to pass across to your audience. If you want to share statistics or data-related info, it would be best to go with infographics or diagrams such as charts and graphs. If you are sharing more long-winded content, you could use blog posts or articles, and in the case where you want to share research-heavy content, then you can create case studies or white papers.
Purpose
Also, you should pinpoint what you are trying to achieve with your content, as this will help you select a suitable content format. For example, if you intend to generate more leads for your business, it would be advisable for you to create content like product demonstrations or templates requiring users to submit their information before getting access to them. Or, if you wanted to establish thought leadership in your industry, for instance, you could create guides or eBooks that would be detailed enough to show your expertise on a subject matter.
Summary
Making your website more engaging will help you to increase your conversion rates or simply generate more traffic for your website.
Thankfully there are many ways for you to do this. You could decide to incorporate video content into your strategy, use interactive tools, or create content that answers the questions your customers already have. Whichever tactic you use, just make sure your focus is on providing value for your audience.
--
Author bio:
Adam Steele is COO and co-founder of Loganix, which is an SEO fulfillment partner for digital marketing agencies and professionals. The company provides the SEO services that businesses need to grow and achieve their goals. If you enjoyed this article, you can find more SEO guides and templates on the Loganix blog.